Rocky's Doggie Café
Rocky's is open daily from 8:30 a.m. – 4:00 p.m. at our San Diego Campus: 5500 Gaines Street, San Diego, CA 92110.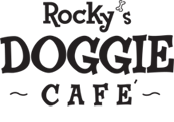 Rocky's Doggie Cafe is proud to serve coffee from West Coast Coffee Roasters, which has been providing artisan quality coffee and products to San Diego customers for 25 years.
In addition to coffee and tea, Rocky's Doggie Cafe also has blended drinks and other specialty drink choices, including: blended Chai latte, blended green tea latte, Mexican chocolate, and much more.
Rocky's also features gourmet sandwiches, salads, and treats. Stop by and enjoy lunch and coffee with your favorite furry friend.
---