A Guide to Kitten Season


This precious face represents a major challenge in our region, but you can help.
This is Emerald. Last year, more than 4, 600 orphaned kittens, just like Emerald, relied on San Diego Humane Society for survival. This year, the first few litters have already started to arrive at our shelter and we anticipate that just as many kittens, if not more, will need our help in 2016.
The challenge of kitten season
March through September is the typical time of year when unaltered felines reproduce. During this time frame, often referred to as "kitten season, " thousands of unplanned and unwanted kitten litters are born in our community and inundate local shelters. While it's a privilege to help these fragile animals reach a full and healthy development, it's a need we hope to alleviate in the future through our targeted spay and neuter efforts.
Since 2012, we've been offering affordable and accessible spay/neuter services to community-owned cats, Pit Bulls and Chihuahuas – the specific animal populations that flood local shelters. Since this program's launch, we've altered more than 16,800 community-owned animals.
Community help is still urgently needed.
Despite the well-intentioned rescue efforts of animal-lovers in our community, kittens are sometimes brought to shelters unnecessarily. Often, when a litter is found without a Queen (mom cat), the assumption is made that the kittens have been abandoned, when the likelier reality is that the Queen is temporarily away searching for food for her family.
This results in an additional strain on shelter resources to care for kittens that were prematurely removed from a Queen who is willing and able to nurse her offspring.
What to do if you find a kitten
You can help keep kittens with their Queen by referring to the following matrix, should you find a litter that appears to be alone.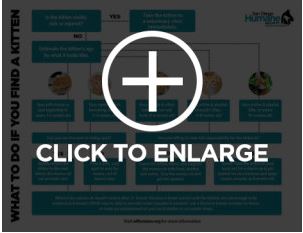 Which local shelters will accept orphaned kittens?
San Diego animal shelters operate based on jurisdictions. This means that the shelter you should take orphaned kittens to depends on the zip code in which they were found. Should you determine with certainty that the Queen has abandoned her litter (if she hasn't returned for more than two hours) and you are unable to foster the kittens, please refer to the following shelter directory.
---
Published: March 14, 2016