Oscar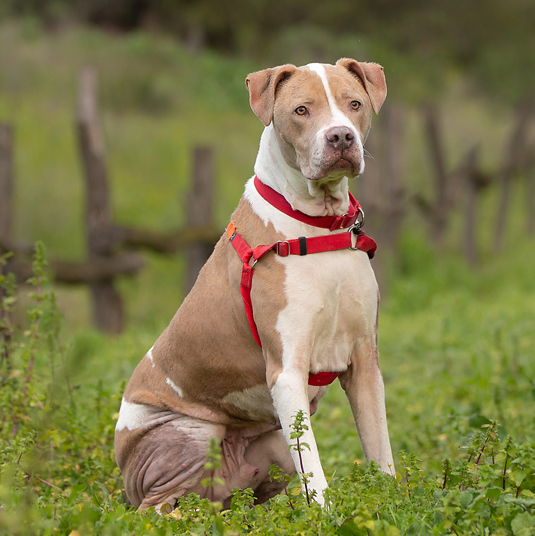 Animal ID:
557949
Breed:
American Pit Bull Terrier
Age:
9 years young
Adoption fee:
waived
Oscar's Bio
Oscar is a sweet, handsome boy who was brought in by a Good Samaritan back in November of 2018. We immediately noticed how itchy and uncomfortable his skin was and we were eager to help him feel better. Although he can be a bit shy at first, he warms up very quickly and once you get to know Oscar, he is going to steal your heart. His sweet playfulness balanced with a mellow, easy-going nature makes for an absolutely wonderful companion.
What Oscar will need from his new family: Oscar has been treated for a severe skin and ear infection. He has made significant improvement but is still undergoing treatment.
Oscar is on Royal Canin Veterinary Diet's hydrolyzed protein to rule out the potential for a food allergy. He appears to be doing well on this diet and it is recommended that you keep him on this diet. He should not be allowed to eat human food or other dog food or treats as this can make his skin and ears flare up. The hydrolyzed dog food comes in both dry kibble and wet food.
Oscar has been treated with topical medication/mousse as well as regular medicated bathes that may continue to be a part of his regular routine.
Follow up consult with a family veterinarian shortly after adoption is recommended to further his therapy. Oscar likely has either a food allergy or a condition called atopic dermatitis which means he has environmental allergies.
He will likely require lifelong therapy to keep his allergies under control. Failure to keep them under control can lead to secondary bacterial infection and discomfort to Oscar.
Oscar is a sweet boy and has responded positively to therapy for his skin and ear condition. While his skin and ear condition is chronic, with proper management, we can likely keep the allergies under control.
We sincerely appreciate adopters that are willing to provide special homes for dogs like Oscar and we gladly waive the adoption fee.
If you're considering meeting Oscar and would like more information, you can visit with one of our counselors or contact our Director of Rescue and Recovery, Sarah Thompson, at [email protected] for transfer to a rescue group.
To meet Oscar, come on by our Escondido Campus today!