Solana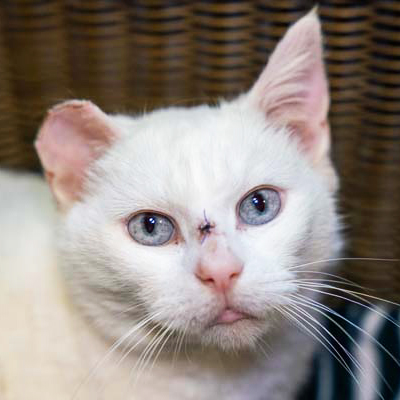 Animal ID:
706315
Breed:
Domestic Short Hair
Age:
5 years old
Adoption fee:
waived
Solana's bio
Meet sweet Solana! This gorgeous and mellow girl will adore your pets and even roll over for belly rubs; we can tell that she can't wait to find her new home! While Solana needs to take her time adjusting to a new environment and to new people in her life, we're sure you will fall in love with her stunning blue eyes and give her the patience and space she needs at first.
What Solana will need from her new family: Solana's adopter should follow up with their veterinarian to discuss a few conditions that we found while she has been in our care. Upon doing a biopsy of Solana's ear, we found some abnormalities that will need to be examined by a veterinarian, since we don't have the resources to further investigate this condition. A concentration of mast cells were found at the tip of her right ear, and while they could be indicative of nothing, they could also be a warning of possible skin cancer. There is a chance that additional surgery might be needed. We also found a small scar indicating that Solana has already been spayed, but there is a small chance that the scar was from another type of surgery. Solana will also need to be an indoor cat only and be kept away from direct sunlight, as light-haired cats are predisposed to skin cancer when exposed to direct sunlight. Our medical staff would be happy to further discuss the care Solana needs and answer any questions you may have.
We sincerely appreciate adopters that are willing to provide special homes for kitties like Solana and we gladly waive the adoption fee.
Solana is currently available for adoption at our San Diego Campus. Make an appointment to learn more about Solana today! For more information about transferring to a rescue group, please contact our Director of Rescue and Recovery, Sarah Thompson, at [email protected].