Buddy Holly is a true original!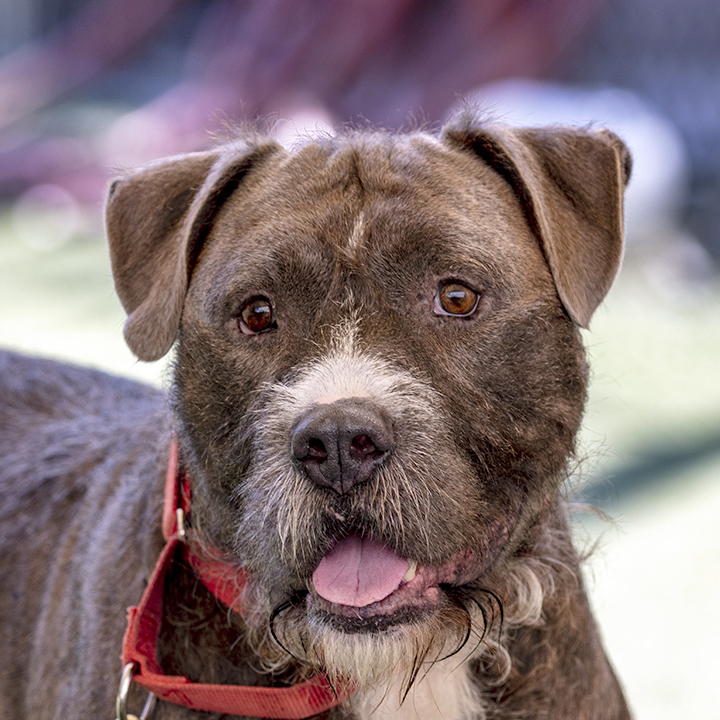 Animal ID:
585602
Buddy Holly's bio
I'm extra special because volunteer, Ann R., has chosen me as their Volunteer Pick!
Volunteer role: B&T Canine Companion

What do you like best about your pick's personality? The more Buddy Holly gets to know me, the sweeter and goofier he gets. He's game for anything: exploring, lounging, chasing balls, snacking...
What first drew you to your pick? Aside from his unique appearance, Buddy's story made me smile. Not having had a great life before he came to us, he's a lesson in adaptability, a newfound trust in humans, and being open to new experiences. I knew he was special... in all sorts of ways.
Is there something special about the way your pick looks? Buddy Holly looks like no dog you've ever seen. Big ol' head, hairy and wirey chest, almost-dainty paws, big brown eyes. I wanted to meet him immediately.
What is your pick's coolest/silliest/most fun trait? Buddy Holly is always up for a walk. It's when we get back to his kennel and chill out that he proves he's the King of Chilling. Back scratches, belly rubs, behind-the-ears massages... he loves his strokes. Every time I get up to leave, he changes positions, enticing me to stay just a little longer to continue with the pampering.
List anything else that makes your pick so awesome: Buddy Holly frequently goes on our K9 Adventures to Liberty Station. He's a perfect gentleman in the car, pays little attention to other dogs we pass, loves to sit in the shade, and never resists getting back to his habitat and the cool floor. Oh, and then there are the scratches. I will miss this boy but want him to have a loving home, which he so deserves. When he finally goes home, I hope his new people give him an Instagram account. He would have quite the fan club!