Cadet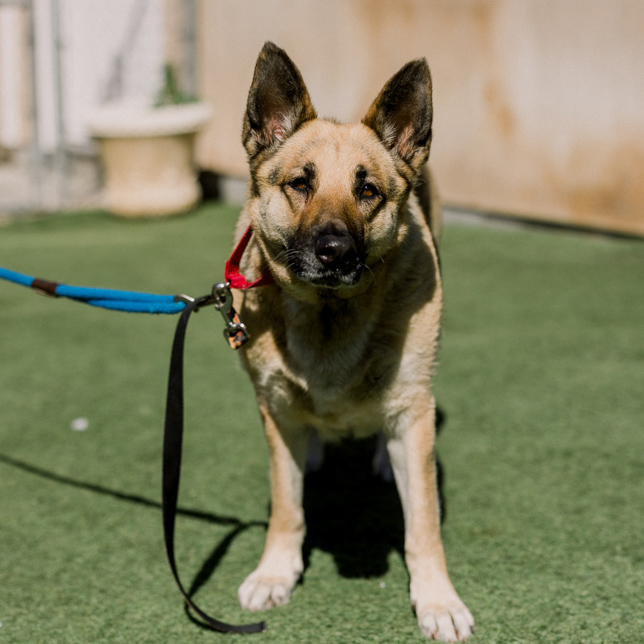 Animal ID:
790347
Breed:
German Shepherd
Age:
5 years old
Adoption fee:
$50
Cadet's bio
I'm extra special because staff member, Amelia H., has chosen me as their Employee Pick!
Employee Role: Adoptions Counselor
What do you like best about Cadet's personality? Cadet is an absolute dork. She can be hard to develop a relationship with, but if you earn your way into her heart, she loves your attention and is always excited to go for a walk or just hang out. She is such a sweet girl.
What first drew you to your pick? When she came into our care, I was told that she was super anxious about being leashed, and would wear a drag leash so she wouldn't have to go through the leashing process constantly. I went to meet her, and discovered that she had already chewed through her leash, and it was only about 2 feet long now! Well, we went for a walk with the mangled leash, and even though she was a bit nervous because it was her first day, she did excellently!
Is there something special about the way your pick looks or behaves? I love taking her out for walks. She constantly likes to look back and check on me, even though she only goes a foot ahead at most. I haven't quite figured out why, but she likes to rub her body against parked cars while we walk. It's only certain cars that are worthy of this, but it seems to bring her joy.
What is her coolest/silliest/most unique trait? Once she's comfortable with you and is ready to just be herself, she's just so silly. Constantly doing little things that you wouldn't expect that just brings a smile to your face!