Dana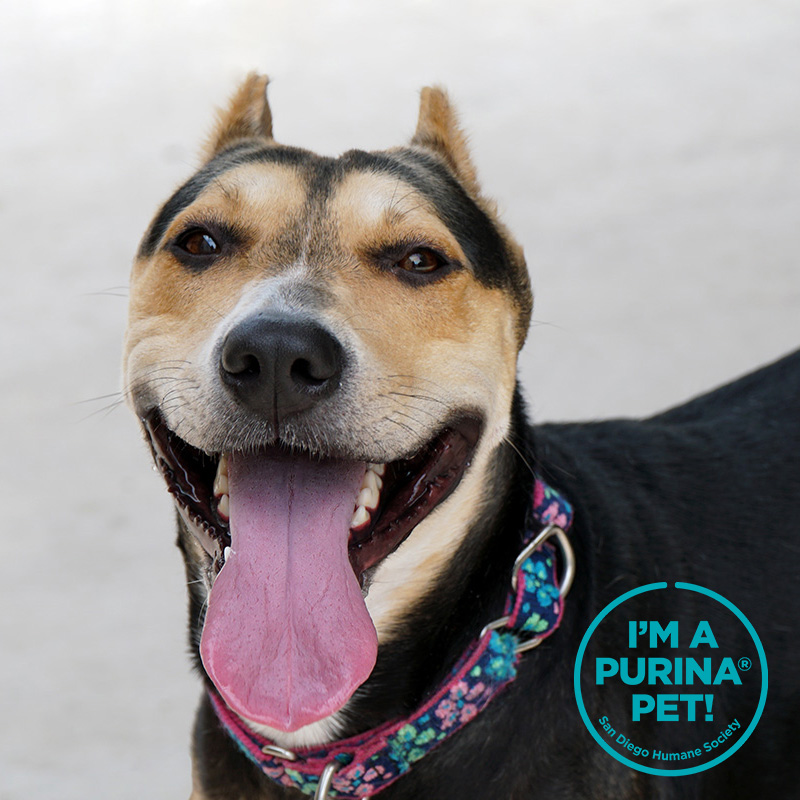 Animal ID:
704609
Breed:
American Pit Bull Terrier / German Shepherd / Unicorn hybrid
Age:
6 years old
Adoption fee:
sponsored by Purina!
Dana's bio
I'm extra special because staff member, Dana H., has chosen me as their Employee Pick!
I'm extra special because volunteer, Emily J., has chosen me as their Volunteer Pick!
What do you like best about Dana's personality?
Emily: Her zest for life is contagious! I absolutely love spending time with her.
Dana: Contrary to what many people get to see from Dana, she is a very gentle cuddly girl. She is also extremely smart!
What first drew you to your pick?
Emily: I recognized her right away after she was returned, I knew she was going to need some extra attention.
Dana: I saw Dana for a long time in the San Diego social media posts, then when she got moved to Oceanside, I finally got to meet the dog that shared my name.
Is there something special about the way your pick looks?
Emily: Her gorgeous face is unforgettable, and she has a cute widow's peak on her forehead.
Dana: Dana has very soulful eyes and is built like a race car, just aerodynamic and absolutely beautifully colored. She also as cheeks that you could squish for days!
What is her coolest/silliest/most unique trait?
Emily: Gold medal level zoomies! She's amazingly athletic.
Dana: Dana is either at zero or 100. This girl has no middle ground. She is either lounging on her bed, slow moving, taking her time, or flat-out running at top speed. This girl has no limit to her energy and is totally an extreme sports girl. Her quick quicks (a.k.a. zoomies) will give you whiplash so watch out for this lady!
Anything else that makes your pick particularly awesome?
Emily: She's always adventure ready and loves her people!
Dana: Dana loves her bed and will happily plop herself down and watch the world go by (as can be seen at her kennel). She has been here way too long and deserves to find her special home where people will be active with her and appreciate her for her drive and zeal for life.