Freja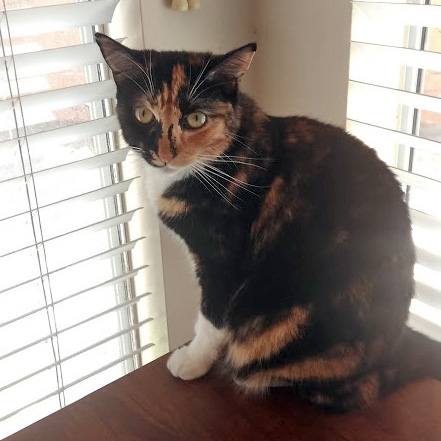 Animal ID:
723659
Breed:
Domestic Short Hair
Age:
2 years old
Freja's bio
I'm extra special because volunteer, Carol P., has chosen me as their Volunteer Pick!
Volunteer Role: Foster
What do you like best about Freja's personality? She is very independent, but loves being close and loves being scratched under her chin. She will accept being picked up and held, but only for a short time. If she jumps into your lap, it is again, only for a short time. She loves to run and is very agile... jumps up on tables, dressers, bookcases, anything! She loves to jump up on my desk and get into everything. Her favorite spot is the window sills where she can watch what is going on outside.
What first drew you to your pick? Helping her to overcome her shyness or resistance to being held. Also, she has a sweet personality and beautiful markings.
Is there something special about the way your pick looks? She has beautiful markings, including white-stocking feet.
What is her coolest/silliest/most unique trait? Coolest trait? Watching the birds in my patio from her window sill perch. Silliest trait? When she comes in and jumps on the bed and meows if I don't get up soon enough for her to get her breakfast. Then she dashes into the kitchen and paces until her bowl is filled. She will also sit on a stool in the kitchen and meow for her dinner. 😂
Anything else that makes your pick particularly awesome? She knows what she likes and wants. You gotta admire that!