Gino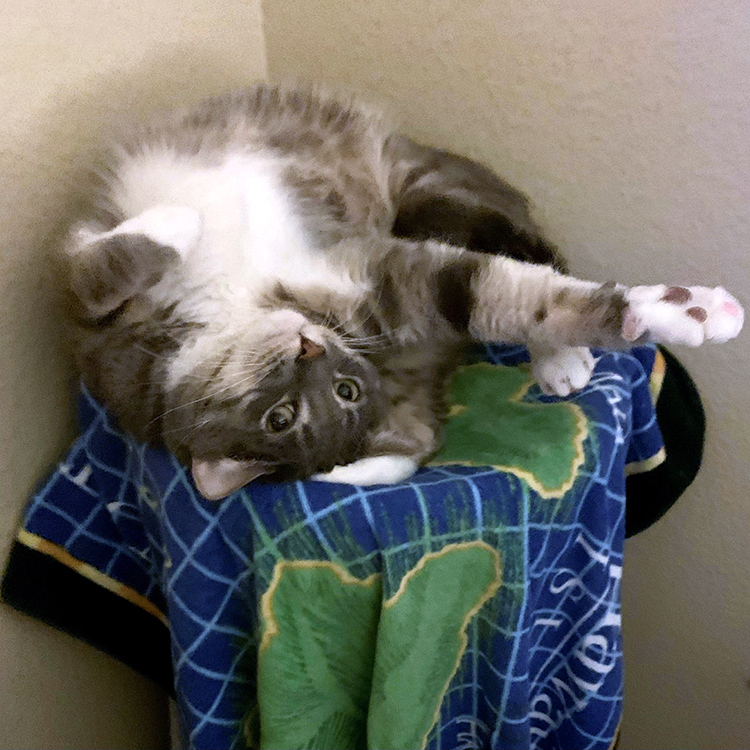 Animal ID:
796635
Breed:
Domestic Short Hair
Age:
3 years old
Adoption fee:
$65
Gino's bio
I'm extra special because volunteer, Kristin A., has chosen me as their Volunteer Pick!
Volunteer Role: Cat morning routine / Foster mom
What do you like best about Gino's personality? He is the most affectionate boy!
What first drew you to your pick? His cute face. I knew that Gino came to the shelter in early March and was labeled as a shy cat. I took him home to give him a chance to relax outside of the shelter. And boy has he come out of his shell!
Is there something special about the way your pick looks or behaves? He is a very handsome grey-striped tabby, with soft patches of white on his chest and feet. Gorgeous green eyes – complete package!
What is his coolest/silliest/most unique trait? Gino loves to be pet! He will chirp for you and run to your side as soon as you enter a room. He loves to lay on the floor and roll over on his back with all four paws sticking straight up in the air. If you put your fingers near his front paws, he will hold your hand in between his and put your hand on his cheek where he wants to be scratched. It's so adorable every time!
He also loves the sound of a pop top on a can of wet food. Gino will come running from wherever he is as soon as he hears that sound. It's quite funny to see!
List anything else that makes your pick so awesome: He is the sweetest, silliest boy. He is always rolling over on his back and gazing up at you with adoration. He takes a few days to warm up but once he does he is super affectionate and his greatest joy is chasing a feather wand around the room. He's also curious about everything you're doing and wants to be a part of it!
I think Gino would love to be your one and only, but he is used to being around other cats. He loves to explore and will follow you around anywhere you go. He is definitely looking for someone to be his best friend forever!