Maya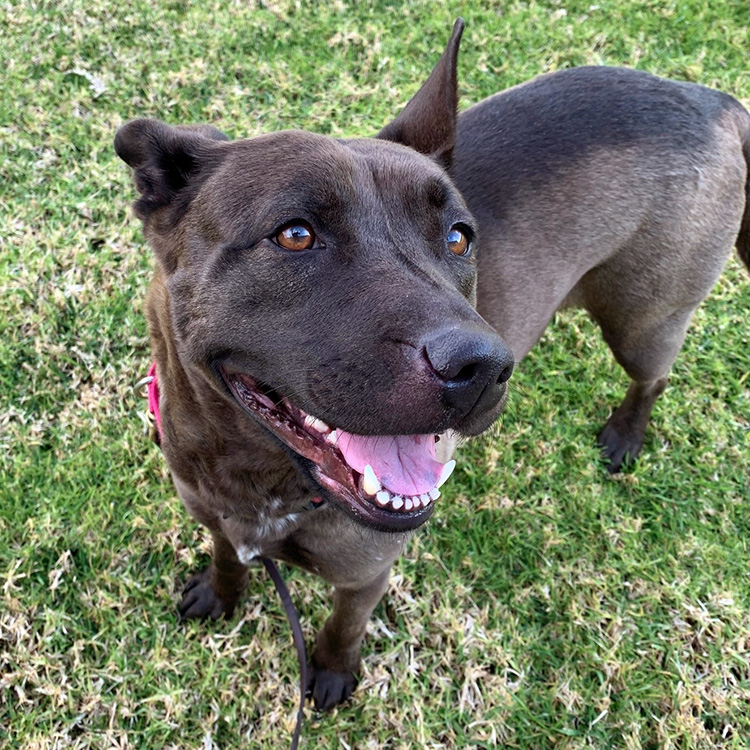 Animal ID:
709104
Breed:
German Shepherd / Am. Pit Bull Terrier mix
Age:
4 years old
Adoption fee:
$100
Maya's bio
I'm extra special because staff member, Alexandra H., has chosen me as their Employee Pick!
Employee Role: Adoption Counselor
What do you like best about Maya's personality? I love how Maya is always so happy to see the staff members she's made friends with; Maya is a bit of a shy girl with strangers, but she warms up beautifully when new friends are introduced by a current friend—so you become "cool by association!"
What first drew you to your pick? I first saw Maya when I was asked by our trainer to meet her; at that first meeting, she didn't approach right away, but her body language seemed quite relaxed. As I started taking her out for potty breaks and walks on a more regular basis, she went from general easygoing tail wags to including the wiggle in her backside, to wiggling her whole entire body and doing zoomies and play bows in her kennel!
Is there something special about the way your pick looks? She is just downright adorable-looking all around! First of all, she has one upright ear and one floppy. Second, she has the loveliest chocolate brown coat, with very unique markings. She has darker brown "stockings" on all four legs going up from her paws to her elbows/knees, as well as a thick, dark brown stripe that runs down her back. Simply adorable!
What is her coolest/silliest/most unique trait? I would definitely say the zoomies in the kennel are her silliest trait!
Anything else that makes your pick particularly awesome? She is also a delight to walk off-campus! Maya is just a lovely lady who needs someone who's patient and willing to provide consistency and work with her needs; and best of all, our behavior experts will give her new family the tools they need to put their best paw forward!