Pickles is too sweet!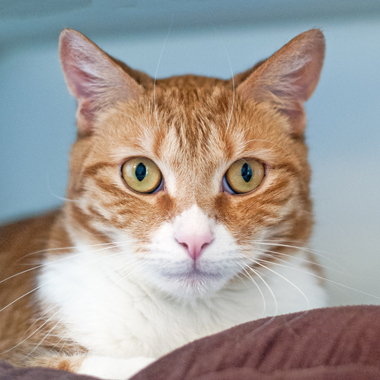 Animal ID:
550211
Pickles' bio
I'm extra special because staff member, Kathy G., has chosen me as their Employee Pick!
Staff Role: Adoption Counselor
What do you like best about his personality? Although shy, Pickles is one of the sweetest cats I've met!


What first drew you to your pick? Pickles never came out of his little hidey house, so one day I climbed into his ex-pen, knelt down in front of him and peered in. I slowly let him sniff my fingers and he began to lean into pets, rolling on his side, and opening up for a belly rub.


Is there something special about the way your pick looks? He is a handsome red tabby, enough said!


What is his coolest/silliest/most unique trait? When petting Pickles and giving him chin scratches, he begins to drool and purr, it is the cutest thing ever!


Anything else that makes your pick particularly awesome? Pickles has been in our care for more than 154 days, undoubtedly due to his bashfulness. I know that his future adopter will be thrilled to see what an incredibly awesome cat Pickles really is, he just needs a more quiet setting where he will be able to head bump, lay on his back, enjoy pets and happily drool away!