You'll be wild about Tarzan!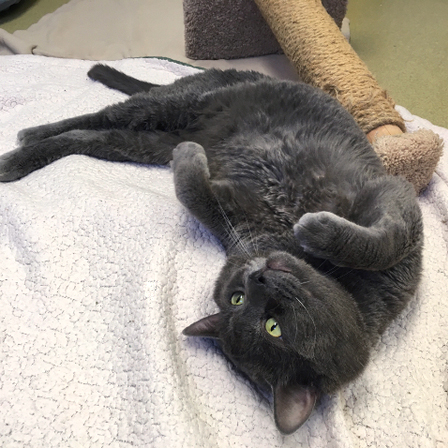 Animal ID:
266981
Tarzan's bio
I'm extra special because volunteer, Linda M., has chosen me as their Volunteer Pick!
Volunteer Role: Cat Companion
What do you like best about your pick's personality? Some of Tarzan's history has been difficult. This is his second go-round in the shelter. He was originally brought in 2017 by a good samaritan after they witnessed him having been hit by a car. He recovered, tested positive for FIV and was adopted. He was returned to the shelter recently and now is seeking his forever home again. He always comes out to greet me and wants to hang out nearby. His positive attitude is an inspiration and makes him my Top Pick.
What first drew you to your pick? His demeanor and rad looks.
Is there something special about the way your pick looks? He is a large, handsome boy who looks like a scrappy tom. His green eyes are stunning.
What is your pick's coolest/silliest/most fun trait? He enjoys flopping beside me for pets on his head and will stretch out completely and go upside down with all 4 paws up in the air while leaned against me. He also works magic with paperwork making it disappear lying on top of it.
List anything else that makes your pick so awesome: He practices mindful relaxation with his full-on yogic postures yet is not shy about making clear how and where he likes being pet and brushed.