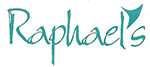 Raphael's Firewood
---
ONGOING
Purchase quality firewood and help animals! Raphael's Inc. sells cut and dried firewood in bundles, starting at 35 lbs. for $7.00. All bundles include free kindling.

PICK UP AT:
2780 Sweetwater Springs Blvd.
Spring Valley, CA 91977

Hours: 8:00 a.m. - 8:00 p.m. on weekdays; weekends by appointment.
Deliveries available -- may include an additional fee based on distance. Call 619-670-1111 with questions.