Project Wildlife is currently not attending events. Check back for updates.
Information Booths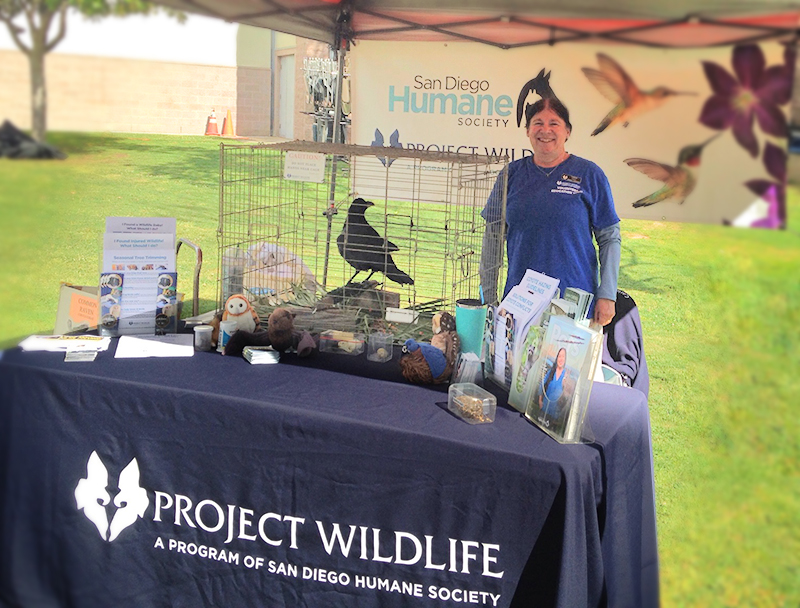 We feature our information booths and animal ambassadors at special events, business partnerships, fairs and conferences throughout San Diego County. Staff and trained volunteers manage the animals attending the info booths and are prepared to answer questions about Project Wildlife, San Diego Humane Society, its programs and initiatives. Please fill out the form to discuss virtual and socially distant activities.
Guidelines
The following guidelines have been developed to help you prepare for your special event, as well as understanding expectations for each partner.
What we'll need from you:
Determine a three to four hour time frame for event.
Accommodate parking for SDHS van and volunteers (when possible). If parking can not be reserved, instructions will be needed on parking options.
Provide unloading/loading zone location on-site.
Provide 10x10 space outside for our tent and information table. Please let us know if you can provide a shaded area or a tent.
SDHS staff will arrive 30 minutes before event to set up and volunteers will show up 10-15 minutes before event starts.
If you can provide us with a table/tent/chairs, please let us know. If you can not, we can bring our own equipment.
Animal expectations:
The time frame is typically three to four hours. Due to state regulations, we cannot keep the ambassador out for longer than a four hour period.
Attendance and choice of Education Animal Ambassador cannot be guaranteed. If, at any time, the presenter is concerned for the animal's safety or welfare, the presenter may decide not to use the animal or to shorten the program.
By law, no one but the program presenter may handle or touch Animal Ambassadors.
For events scheduled with food, the Animal Ambassador must remain at 20 feet away from food service areas and 10 feet away from any other food.
Each Animal Ambassador is unique. Please follow the instructions of our program presenters at all times to ensure the best possible program for you and the animal.