Animal Ambassadors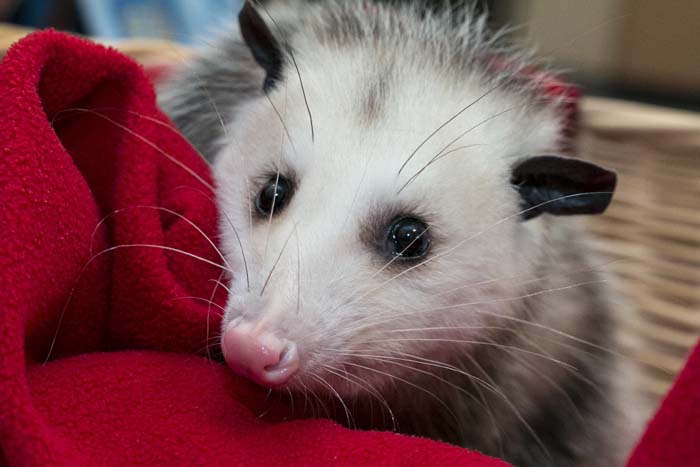 Part of our mission at Project Wildlife is to promote wildlife conservation by teaching children and adults about the beauty and value of our wildlife.
California's wildlife belongs to us all, and we want to encourage stewardship and appreciation of our native species and ecosystems. As the continuing loss of habitat brings wildlife in contact with people now more than ever before, it is imperative we communicate the importance of protecting natural spaces for wildlife and ways to better coexist.
To help achieve this goal, we travel throughout the county with our education animals, providing safe and fun wildlife encounters. In booth programs and presentations for schools, Scout troops, organizations and various private groups, we share the stories of these animals that cannot do so for themselves.
Meet our Animals Ambassadors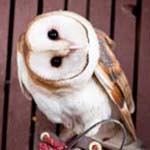 Boo
Boo came to Project Wildlife as a young owl who had been raised by the public. Due to being hand-raised, Boo is not afraid of people and as a result cannot survive in the wild. Boo lives in Ramona with his caregiver with whom he has formed a special bond. In addition to flying right to his caregiver's wrist for training sessions and outings, during breeding season Boo makes mating calls to his caregiver to let him know that he's his chosen mate!
---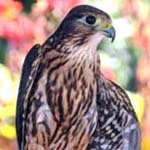 Guinevere
Guinevere, the Merlin Falcon, joined us in 2005 as an adult with a wing injury that removed her ability to fly properly. After kestrels, Merlins are the smallest of the Falcons in North America and are known for their speed and agility in flight. Merlins were also the species of falcon used by the ladies of the court in medieval Europe. They are rare to see in a captive education program in Southern California because they are not present here year-round but only migrate through the area as adult birds. Guinevere is a talkative bird who will often announce herself on programs with Merlin's typical territorial calls.
---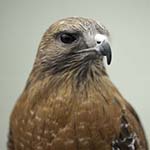 Kwa'Pai
Kwa'Pai is a Red-shouldered Hawk who came to Project Wildlife as a hatchling in 2004. He was found on the ground underneath a nest, and it was soon discovered that he was blind in his right eye. With poor depth perception and the inability to see danger from one side, Kwa'Pai was unable to be released into the wild. Kwa'Pai's vocalizations and regal bearing inspired his name, which means "chief" in a dialect of the Kumeyaay people. He actually has a very calm personality and loves the showers he gets in his enclosure on hot days, holding out his wings to get soaking wet underneath.
---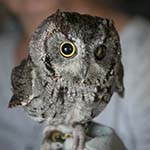 Luna
As a young adolescent, this female Western Screech Owl was transferred to Project Wildlife by a veterinary hospital in July 2011 with severe head injuries. After Luna was examined by our staff veterinarian and a veterinary eye specialist, it was determined she had loss of vision in her left eye, damage to her right eye and loss of hearing in her left ear. Without at least one healthy eye and both functioning ears, she would be unable to survive in the wild. She has since adapted well to life in captivity, and can now be found doing educational programs throughout San Diego County.
---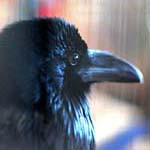 Moki
Moki (Hawaiian for "Rascal") is a common raven brought to Project Wildlife in 2000 as a hatchling with a broken wing. His injury did not heal completely enough for him to be able to survive on his own in the wild. As a result, we brought him into our education program and habituated him to humans and human behavior. Like all ravens, Moki is excellent at imitating sounds that he hears regularly, including the voice of his regular caregiver.
---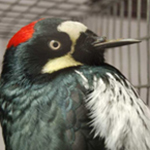 Pepper
Pepper, an Acorn Woodpecker arrived as a young bird to the Wildlife Center in 2008. Due to her poor health and an unfortunate series of events, she lost the upper part of her beak, breaking it off so close to her face that it will not re-grow. Pepper needs to be on a modified diet and cannot be released into the wild. Despite having half a beak, she still happily pecks at wood and forages in her enclosure for her favorite acorns, cleverly hidden by her caregiver to keep her active and challenged.
---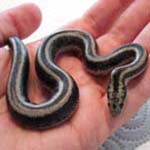 Druk
Druk is a female Rosy Boa who came to Project Wildlife in early 2011. She was captive bred for the pet trade, but due to a spinal column deformity she was considered non-sellable and so she came to Project Wildlife instead. Druk's deformity may hinder her ability to unhinge her jaw like a normal snake (she's currently too young to eat on her own and is force-fed by her caregiver). Druk is being carefully monitored by a veterinarian to assess any health issues that may arise as a result. The Rosy Boa is native to Southern California and is very easy to spot in the wild due to its bright coloration. While most Rosy Boas are rosy-colored, Druk has a more rare grey and black striped coloration.
---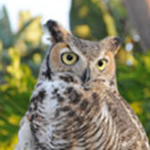 Soyala
Soyala, the Great-horned Owl, was brought into the Wildlife Center as a hatchling in March 2009. She was found on the ground beneath a nest with an obvious wing injury. It was soon discovered the wing injury would cause permanent flight restrictions for Soyala, making her non-releasable. Soyala is a Hopi word that refers to the time of the winter solstice; she was named by Ruth Hayward who won the opportunity to name her in our We Like it Wild! Auction.
---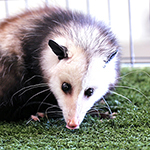 Spinner
Spinner came to us as a neonate after losing her mother to a car strike. Right from the start, her rehabber felt there might have been a brain injury because she wasn't growing as fast as the others and wasn't showing the same normal display of fear as she matured. Also, once she started walking, she didn't climb like the others and was only walking in circles. Our doctor concluded that she may have had an injury at birth. Due to her injury, she would not have survived in the wild on her own, thus becoming one of our newest additions to our education team.
---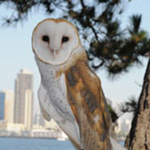 Ugs
Ugs (Uguku is Cherokee for "Story Teller") is a Barn Owl who was found on the ground as a hatchling in May 2004. His left wing was broken in three places, and he also had left leg and foot damage. These injuries may have been caused by a traumatic fall or could be the result of a type of brittle bone disease. Regardless, though he survived his injuries, his condition will not allow him to survive effectively in the wild. At present Ugs is currently only available for smaller, indoor programs.
Donate Amazon Wish List Volunteer Project Wildlife Newsletter