Youth T-Shirt Design Contest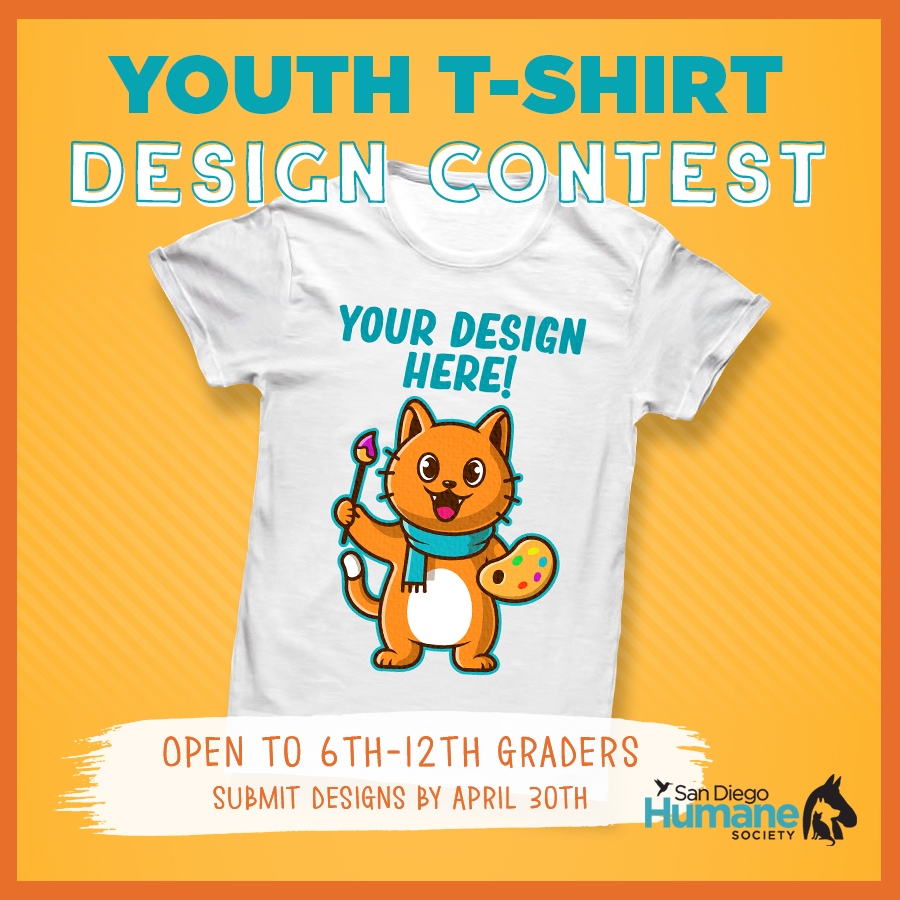 Calling all creative, compassionate kids! We want YOUR help designing our new youth T-shirt! The winning design will be featured on a special edition youth shirt for participants in various kids' programs at San Diego Humane Society.
Official Rules:
The contest is open to artists currently in 6th-12th grade.
Submissions are due by midnight on Friday, April 30, 2021.
Email a high-resolution image to: [email protected] and include the name, grade level and preferred email contact of the designer.
File must be a .jpg, .png or .pdf and max file size is 15mb.
By submitting your design, your artwork becomes the property of San Diego Humane Society and can be shared on marketing materials and social media.
If your design is selected, San Diego Humane Society reserves the right to modify the design to fit the size and format needs for the T-shirt printer.
Design Guidelines:
Designs can include the many kinds of animals that San Diego Humane Society helps: companion animals, farm animals and/or local wildlife.
Designs may include just images or images and text.
Do NOT include the year in your design.
Designs should be for ONE side of a T-shirt only
Designs must use ONE color only on a white background.
Designs must be in outline style (similar to a coloring page) so that the shirt can be painted.
Designs may be digital or hand drawn, as long as it is your own original artwork.
The winning design will creatively capture the special relationship between people and animals and will celebrate our vision of a more compassionate world. The winning design will be selected by a panel of San Diego Humane Society staff and volunteers.
The winner will be featured on our social media pages and The Scoop email, receive a free T-shirt and get to see their design featured on the shirts of hundreds of kids across San Diego County!
Terms and Conditions:
By submitting your design, and in consideration of SDHS evaluating your design submission for its possible use, you agree to the following terms and conditions:
The design is your own original work, is not and has not been offered for sale anywhere by any means, and does not contain any trademarks, logos, copyrighted material, content subject to right of publicity or privacy, or any other intellectual property belonging to any third party.
The design does not infringe any rights of any third party.
By submitting the design to SDHS, you hereby grant SDHS the right and license to upload, modify, reproduce, copy, exhibit, create derivative works of, distribute, and display the design, in any manner, for the purposes of promoting SDHS.
If the design is selected by SDHS, you shall assign the entire right, title, and interest in and to the design to SDHS.
You acknowledge that SDHS reserves the right to decline to select the design for any reason, at SDHS's sole discretion, and that the decisions of SDHS are final and binding.
By submitting your design, you acknowledge that you have read and are comfortable with these Design Submission Terms and Conditions, you agree to be bound by them, and you wish to submit your design to SDHS in accordance with them.
Please contact [email protected] if you have any questions.