Project Wildlife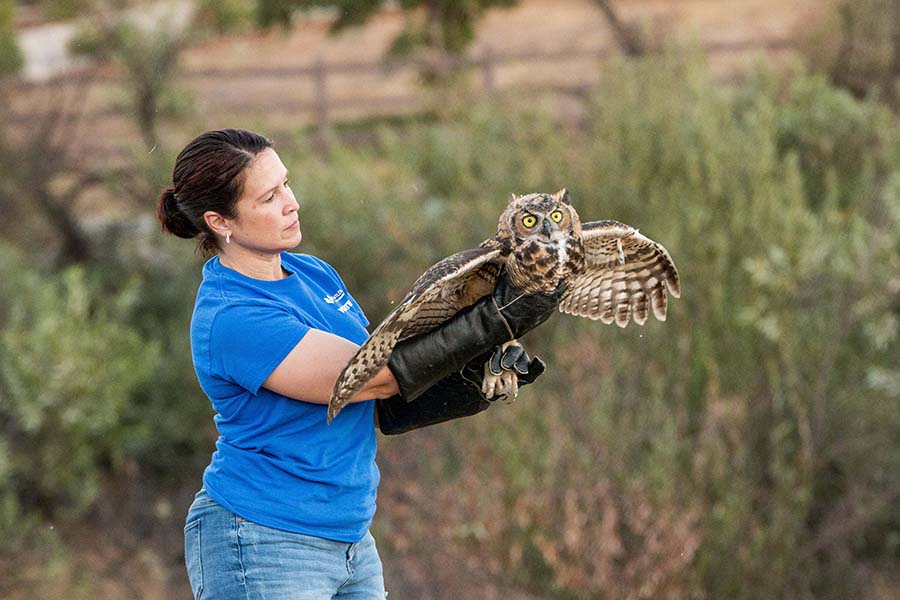 The goal of Project Wildlife's rehabilitation efforts is to restore our sick, injured and orphaned wild patients to full health so that they may be released safely back into their natural habitats. With over 12,000 animals cared for annually, volunteers play a crucial role in these efforts year-round, seven days a week! Project Wildlife is very much at the whim of Mother Nature, the wildlife baby season is typically April through September. During this time we are caring for our highest volume of wildlife patients, some days up to 400 patients at a time, and have 150+ skilled volunteers assisting in our Care Center located in San Diego, providing the necessary medical care needed. Thanks to the generosity of donors, San Diego Humane Society just opened a new state-of-the-art Wildlife Rehabilitation Center in March 2019.
Volunteers help our staff and community to help rehabilitate injured and orphaned wildlife. We are grateful for the enthusiasm, dedication and love they share with us every day.
---
WANT TO GET INVOLVED?
New volunteers are typically recruited seasonally, on an as needed basis. Interested community members first attend a volunteer info session to learn more about our organization, the volunteer program and ways to get involved. Please review the information below if interested in joining the team! During recruitment periods, application links are available at the bottom of this page!
---
REQUIREMENTS TO VOLUNTEER WITH THE PROJECT WILDLIFE PROGRAM:
Must be at least 18 years of age.
Completion of recruitment process and training series with submission of all paperwork prior to volunteer service.
Wild Center volunteer must be able to stand for extended periods of time (up to 3 hours) and complete a variety of physically demanding tasks in a fast-paced environment.
A minimum commitment of one full wildllife season. Due to the amount of time and resources that we invest in our volunteers, we are unable to offer one-time or short-term community service projects with the Project Wildlife program.
---
WILDLIFE CENTER VOLUNTEER OPPORTUNITIES:
Positions on this team include Wildlife Transporters, Wildlife Center Foundation Assistants and Wildlife Center Animal Assistants. Animals cared for at this location are primarily a variety of small to medium-sized bird species. Each volunteer will contribute 200 hours a year or more, accumulated on a weekly basis, interacting with staff, other volunteers and members of the public. Volunteers must commit to one shift per week, with a minimum commitment of one season. Shift lengths vary seasonally between 3 and 4 hours, with shifts offered daily.
Wildlife Center Positions:
Wildlife Center Foundation Assistants

Assist with essential tasks including sanitizing animal enclosures and cleaning routines including dishes, laundry and stocking supplies.
Complete daily wildlife diet preparation duties and ensure all areas are clean and organized.
Be prepared to get dirty, follow staff instruction for safe and effective animal care and have fun!
Foundation Assistants have the opportunity to Step Up into a Wildlife Center Animal Assistant role after one wildlife season.
Wildlife Center Animal Assistants

Volunteers with previous experience in wildlife rehabilitation or a veterinary hospital setting can begin in this role.
Care for resident patients at our Wildlife Center.
Greet and assist the public with receiving new patients.
Be prepared to get dirty, follow staff instruction for safe and effective animal care and have fun!
Animal Assistants may qualify for our advanced Step Up Project Wildlife volunteer positions such as Baby Room team and our Education team.
Wildlife Transporters

Volunteers will transport animals from our SDHS campuses, vet hospitals, lifeguard stations along beach's and public parks, other animal shelters or private residences and bring them to the Wildlife Center in San Diego using their own vehicle on a weekly or biweekly schedule.
How to Become a Wildlife Center Volunteer:
1. Sign up for a Volunteer Info Session during the next recruitment period. At this session you will learn more about our organization, the Project Wildlife volunteer program and current opportunities to help you decide if Project Wildlife is the right volunteer program for you.
2. After the Info Session, those interested in volunteering with Project Wildlife will be invited to complete our service interview at the Wildlife Center.
3. Based upon information provided during the interview process, the Volunteer Supervisor will select those whose skills, experience and availability best meet the needs of Project Wildlife as Wildlife Transporter, WildlifeCenter Foundation Assistant or Wildlife Center Animal Assistant. Those selected for the Project Wildlife program will be emailed an offer to get started with the training process. If this program is not right for you, the Volunteer Engagement team will provide you with other opportunities to get involved with the Humane Society or other Animal Welfare Organizations in San Diego.
4. Once accepted into the program, you will complete a fun and thorough training series. This includes both online and hands-on instruction.
5. After your training is complete, we will schedule your weekly shift and you will begin your volunteer role!
May 2019 Recruitment Period - Now Full
We can accept 80 new volunteers for our Project Wildlife team during this recruitment period. All spots have been filled as of May 10 at 11 a.m.
If you are interested in applying for a future volunteer positon, please check back in ealry June.
---
SATELLITE REHABILITATION VOLUNTEER OPPORTUNITIES:
Throughout the year, on an as needed basis, Project Wildlife recruits volunteers for our Satellite Team. Volunteers can join one species specific team to care for sick, injured or orphaned wildlife in their home. Length of each assignment and number of animals depends on type of species and age group cared for. Experience not required, training and supplies are provided. Volunteers are asked to commit to a minimum of 1 year of service in this role.
Satellite Team members work with animals in their own home to ensure they receive the care needed to be released back into the wild. These volunteers are a crucial component in allowing wildlife to be released safely back to their natural habitats by offering a quiet, calm environment for rehabilitation. This assignment is very different from fostering. Wildlife should only be handled when feeding, cleaning or medicating and should be left alone otherwise; there is no socializing. Releasable animals should be maintained in a wild condition and released as soon as appropriate.
Satellite Teams:
Please check back for recruitment needs in late spring 2019.
Bat
Duck
Fox
Skunk
Rabbit
Raptor
Hummingbird
Seabird
Pigeon/Dove
Songbird
Squirrel and Small Mammal
Raccoon
Corvid
Opossum
How to Become a Satellite Volunteer:
Watch the online Intro to Satellite orientation here. This will give you a better idea of what the program is and the opportunities we have available.

Once you've watched the video, email

[email protected]

to attend the upcoming Intro class for the team(s) we are recruiting for. You will receive an email within with team specific information and required online training materials and quiz.
Volunteers must complete online application and service interview in the Wildlife Center. Based upon information provided during the interview process, the Volunteer Coordinator will select those that best meet the needs of the Satellite Teams. If this program is not right for you, the Volunteer Engagement team will provide you with other opportunities to get involved with the Humane Society or other Animal Welfare Organizations in San Diego.
If selected, the Volunteer Coordinator will schedule you for a Mentor Shift in the Project Wildlife Care Center and the Team Specific Introductory Class where you will learn how to care for the species in your home.
After attending the Introductory Class, volunteers complete a home inspection as required by state and federal permitting agencies.
Once home inspection is complete, volunteers begin hands on training with that species until cleared to care for animals independently.
---
Other Ways to Get Involved:
Visit our Amazon wishlist to support Project Wildlife directly from your own home! All items will be shipped straight to Project Wildlife.
Make a donation to support the Project Wildlife program which will support saving wildlife and educating the public about how they can protect native animal species in our communities. Your generosity not only improves the quality of life for animals, but also improves life for people who enjoy the beauty and diversity of our natural world.
Follow us on Facebook and spread the message to your community. We often post education information related to domestic and wild animals which you can share with your friends and family!