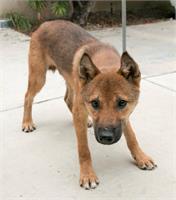 Does your pup run the other way when they see another dog? Are they afraid to investigate objects in their world? Do they shy away when people approach?
Shy Dog is an introductory level course designed for dogs that are overwhelmed by their environment. This class focuses on building trust between you and your dog, as well as boosting your dog's confidence through positive reinforcement training.
COURSE TOPICS INCLUDE:
• Desensitization and counter conditioning to make positive associations with novel objects, sights, sounds, people, handling, and other dogs.
• Building interest in play and toys.
• Leash walking.
• Recall.
• Settle down (calmness in the home).
• Identifying signs of stress in your dog.
• Dog body language.
• And much more!
IMPORTANT INFO:
• Classes maybe held indoors and or outdoors at our San Diego campus on Gaines Street
• Preregistration is required.
For more information, call 619-299-7012 x 2398.
San Diego Humane Society group training classes are for friendly dogs and their owners. San Diego Humane Society only uses positive training methods and training tools including the use of food as a reward. We do not support the use of aversive training tools such as choke chains, prong collars, and shock collars.
San Diego Humane Society group training classes are not meant for:
• Dogs who have growled, snapped or bit a person.
• Dogs who have bitten other animals.
• Dogs who exhibit aggression or other behavioral issues.
Enrolling in this class confirms that your dog will meet the above listed prerequisites. Not sure if this is right class for you? Call us at 619-299-7012 ext 2398.