Gov. Newsom Signs Bill for Accessible Vet Telehealth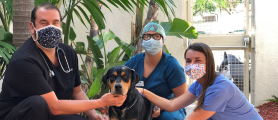 On Oct. 9, 2023, the ASPCA® (The American Society for the Prevention of Cruelty to Animals®), San Diego Humane Society (SDHS), and San Francisco SPCA commended California Gov. Gavin Newsom for signing Assembly Bill 1399 into law, empowering licensed veterinarians in the Golden State to establish a veterinarian-client-patient relationship through video technology. This new law, which will take effect on January 1, 2024, will help address the critical veterinary shortage happening nationwide by providing greater access to veterinary care for California pet owners. Authored by Assemblymembers Laura Friedman (D-Burbank) and Josh Lowenthal (D-Long Beach), the bill received strong bipartisan backing, with near-unanimous support in both the Senate and Assembly.
Telehealth is a lifeline for pet owners, especially those in remote or underserved areas with few or no veterinarians and those who face financial, or logistical obstacles getting pets to a clinic. Human healthcare has long relied on safe and convenient telehealth technology to help bridge gaps in care caused by workforce shortages, and now California veterinarians can do the same to prevent unnecessary animal suffering. By enabling veterinarians to see patients remotely, A.B. 1399 modernizes veterinary care in California, helping address the veterinary care crisis and ensuring that California pet and livestock owners can benefit from the safety and convenience of veterinary telehealth.
"The benefits of telehealth are clear – when used responsibly, veterinary telehealth can help reduce animal suffering, address barriers to care, keep pets in their homes, and extend the capacity of animal shelters to serve animals and their communities by increasing access to veterinary care," said Brittany Benesi, senior director of state legislation for the ASPCA's Western division. "A.B. 1399 makes veterinary care more accessible to California pet owners and we're grateful to Governor Newsom for signing this lifesaving bill into law to enable California veterinarians to use technology to protect the pets who need it most."
"We were thrilled to learn that Governor Newsom signed A.B. 1399 into law and know this will bring countless benefits for animals and pet owners across California," said Dr. Gary Weitzman, president and CEO, San Diego Humane Society. "This is an incredible step in the right direction for the future of accessible veterinary care, making telehealth a reality for both pets and shelter animals in under resourced and low attention regions of our state. A.B. 1399 is combining modern technology, already used in human telehealth, with the practice of veterinary medicine to eliminate barriers around access to care and it will make a lifesaving difference for so many animals."
"This is a tremendous day for pets, families and everyone who cares about animal welfare in California," said Dr. Jennifer Scarlett, CEO of the SF SPCA. "AB 1399 will broaden access to veterinary services throughout our state. Telemedicine will improve the well-being of animals who need access to affordable, convenient health care, and make veterinary care more accessible for all pet owners, especially for people in remote areas and those who face geographic, logistical, and financial obstacles getting animals to a clinic. I want to personally recognize and thank Assemblymembers Friedman and Lowenthal for their commitment to this legislation and Governor Newsom for signing this bill into law."
"By signing AB 1399, Governor Newsom has just taken a huge step toward addressing California's crisis in access to veterinary care. Veterinary telehealth is a critical tool to help more animals in California receive the care they need, when they need it, where they need it," said Assemblymember Laura Friedman (D-Burbank). "I'm so grateful to the Governor, to my legislative colleagues who overwhelmingly supported this effort and to the ASPCA and San Diego Humane Society for their leadership."
"The pandemic accelerated our thinking on how we access healthcare and that experience has proven that not all medicine needs to be practiced in person," said Assemblymember Josh Lowenthal (D-Long Beach). I am grateful to Governor Newsom and proud to be a joint author on AB 1399, which takes what we learned from the pandemic and expands telehealth access to veterinary medicine. As we face a statewide shortage of veterinarians, the virtual house call is an excellent option for our pets to improve access to healthcare, when deemed appropriate by an attending veterinarian."
While federal and state laws have expanded access to telehealth for people, access to telehealth care for pets remains limited. Its growth is obstructed by antiquated laws that require veterinarians to examine animals in person before they can treat animals— even for minor and common ailments, or for routine prescriptions.
The veterinary industry is experiencing a critical shortage of veterinarians in California and across the country, with a study from Banfield Pet Hospital estimating that 75 million pets in the U.S. could be without veterinary care by 2030. In recent years, some states have taken the initiative to update their laws to provide better access to virtual veterinary care, and it's critical that other states follow their lead to change veterinary laws across the country and make telehealth broadly available so veterinarians can determine when to use this vital tool to provide the most effective care possible to their patients.
Published: October 10, 2023