Dog Licensing Information
Dog Licensing Frequently Asked Questions
Before Licensing Your Dog
A California-approved rabies vaccination of your dog and a valid Rabies Certificate is a prerequisite for licensing. Rabies vaccinations are highly effective as an animal and public health measure, and are especially important in areas like ours where the potential threat of exposure to rabies from wildlife is a significant concern. The primary rabies vaccination is good for one year. The second vaccination is given one year later. Subsequent (or booster) vaccinations are valid for three years.
California-approved Rabies Vaccinations
Please note:
Your veterinarian's business name and License Number
or
clinic name and phone number are required for verification purposes. If your pet cannot get a rabies vaccination due to a medical condition, please complete this
rabies exempt form
with your veterinarian.
Alteration (Spay/Neuter)
Dog licenses for unaltered dogs are charged at a higher rate. For a list of low-cost spay or neuter services in San Diego please visit sdhumane.org/alterations.
Late Fees
Failure to obtain a license, or to renew the license by the expiration date will result in a late fee.
Visible Tags
A dog's license tag must be securely fastened to the dog's collar or harness and worn by the dog at all times. Dog licensing is the best way to ensure your pet is identifiable, if found, and is also a visible means of ensuring that the animal has been vaccinated against rabies.
---

San Diego Humane Society partners with DocuPet.com so pet owners can purchase a new license or renew an existing license through their online portal. Residents of Carlsbad, Del Mar, El Cajon, Encinitas, Escondido, Imperial Beach, La Mesa, Oceanside, Poway, San Diego, San Marcos, Santee, Solana Beach and Vista can purchase a dog license online at DocuPet.com.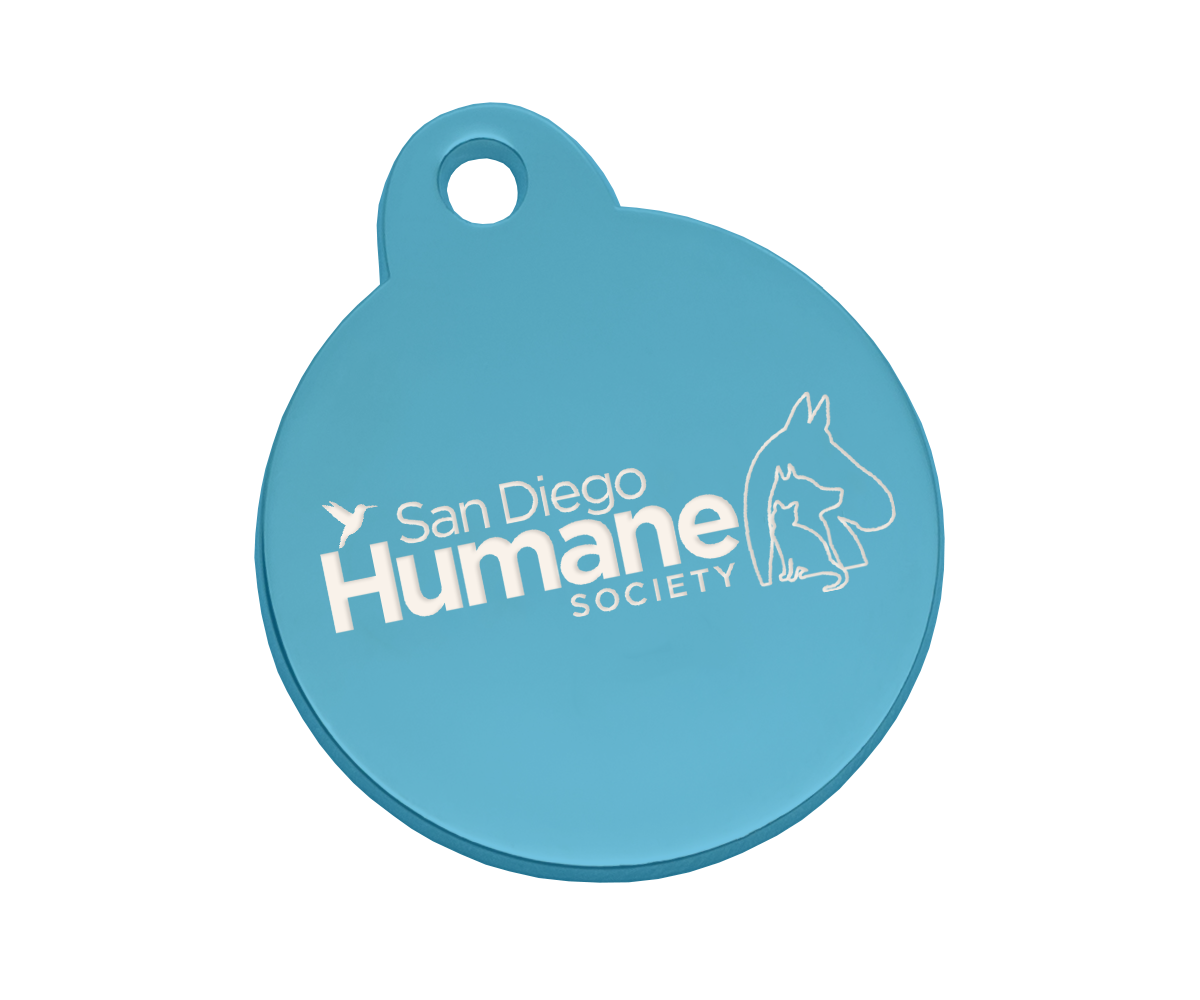 San Diego Humane Society has partnered with DocuPet to provide residents with a simple online solution for pet registration. Not only does your pet's DocuPet tag act as their official pet license in the communities that San Diego Humane Society serves, but it also comes equipped with the free HomeSafe™ 24/7 lost pet service. Your pet's tag links to their very own comprehensive online profile via a unique code on the back of their tag.
Please note, online licensing takes up to 30 days.
For immediate licensing needs, visit San Diego Humane Society's campuses in El Cajon, Escondido, Oceanside or San Diego.
Service dog licenses, Rabies exemption licenses or any other special dog licenses cannot be completed through DocuPet.com. Information must be emailed to [email protected] or done in-person.
---
In Person:

License your dog in person at one of these locations:

San Diego Campus: 5480 Gaines St., San Diego, CA 92110
El Cajon Campus: 1373 N. Marshall Ave., El Cajon, CA 92020
Escondido Campus: 3500 Burnet Drive, Escondido, CA 92027
Oceanside Campus: 2905 San Luis Rey Road, Oceanside, CA 92058

By Mail:

License your dog by mail.

ATTN: SAN DIEGO HUMANE SOCIETY
LICENSING DEPARTMENT
5480 Gaines St.
San Diego, CA 92110

Please make checks out to San Diego Humane Society.
---
License fees are an investment in the health and safety of our pets. These small fees also assist San Diego Humane Society in providing care to stray and homeless animals and further our efforts to eliminate animal cruelty and neglect.
*Please note, licensing fees are non-refundable.
---
It's the law
California Health and Safety Code (121690) requires all dogs to be vaccinated against rabies and to obtain a license:
Within 30 days after reaching the age of four months, or
Within 30 days of acquiring the dog, or
Within 30 days after entering the jurisdiction.
---
This is a reminder of the critical information to be sent to the San Diego Humane Society to meet compliance with the San Diego County code for rabies vaccines.
Sec. 62.612. CERTIFICATE OF VACCINATION. Any veterinarian who vaccinates a dog for rabies shall certify such vaccination by properly completing, as provided in section 62.601(q), the license application — rabies certificate form issued by County for that purpose and shall forward monthly to the Department a copy of each form so completed.
Please note it is required by all veterinary practices to send this information to SDHS monthly. Current forms can be provided by SDHS at your request. They come in triplicate, and the top white copy should be sent to SDHS, one copy is for your records and the last copy is for the dog owner. All fields of the form must be completed to be valid, including:
Dog Owner information
Dog information
Manufacturer
Vaccine name
Lot #
Date vaccinated
Veterinarian signature
Vet #
1 year vaccine/3 year vaccine
Vet phone number
Current Vaccines Acceptable for the State of California
Please be sure to administer any of these rabies vaccines. All others are no longer approved by the state.
Elanco Rabvac 3
Merck/Intervet/Zoetis Nobivac 3
Merial/Boehiringer Ingelheim Imrab 3 or 3 TF
Zoetis Defensor 3
Rabies certifications are needed to maintain records of dogs within jurisdictions and for applications to be sent to owners to license their dog for city compliance. Licensing fees changed as of April 2020, and old forms should not be used. Please use current forms with the correct rates listed below. Your clients can send in the license application form that you give them to get their license by mail, or they may go online to sdhumane.org/license. If you need current rabies forms, please email [email protected].
---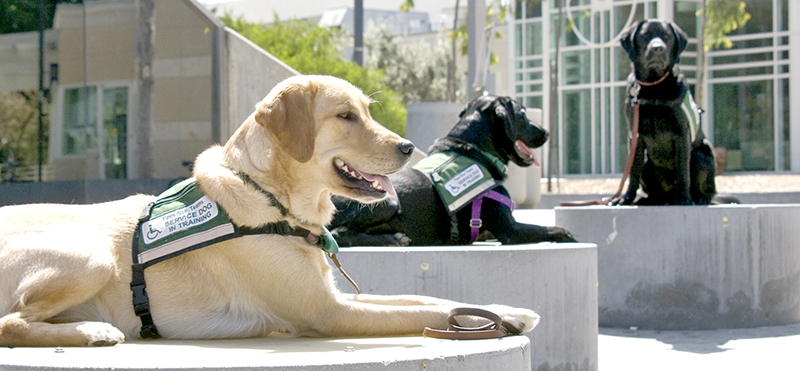 California Health and Safety Code (121690) requires all dogs to be vaccinated against rabies and to obtain a license. Once you have obtained a valid dog license, the below information will assist in registering a service dog with San Diego Humane Society.
Requirements for San Diego Humane Society's Service Dog Registration are:
1. A current dog license.
California Health and Safety Code (121690) requires all dogs to be vaccinated against rabies and to obtain a license. All licensing fees are waived (by law) for service dog licensing, once the dog has been established as a Service Dog through San Diego Humane Society.
2. Must be qualified as an official "service dog."
A "service dog," under California law, is a dog trained to help a specific individual with a disability with services such as fetching dropped items, minimal protection work, rescue work, or pulling a wheelchair. More information about what qualifies as a "service" animal can be found here.
3. Must live in San Diego Humane Society's Animal Service Jurisdiction.
If you meet the above qualifications, please email the following attachments to [email protected] to begin the service dog registration process.
A completed application (application can be found here),
A copy of your government issued photo ID,
Your dog's current rabies certificate,
And one of the following items:
A copy of a doctor's note / prescription,
A copy of your handicapped placard, or
A copy of your SSDI award letter.

Contact us at [email protected] or call 619-299-7012 for further information or assistance with your application. Please note, applications take 30 days to complete.