Our Mission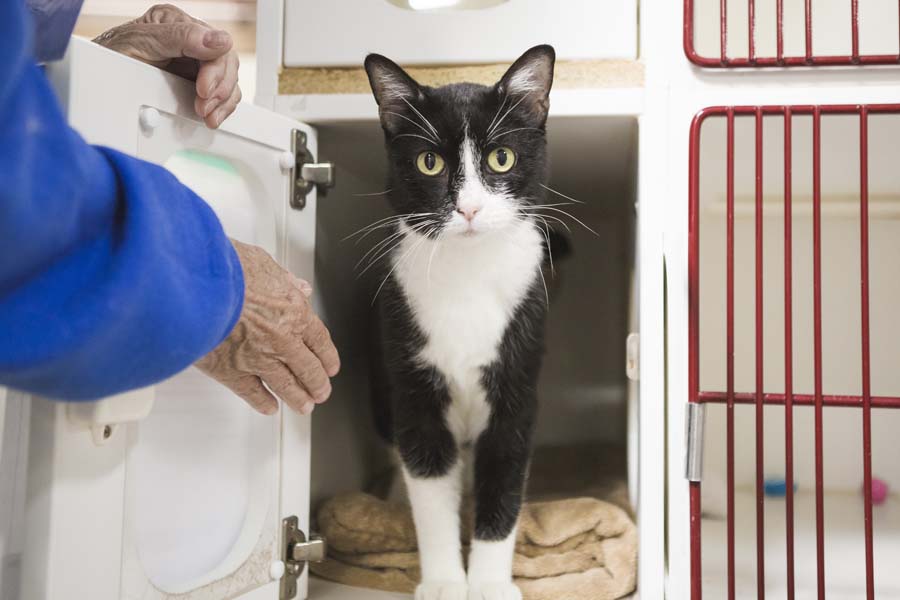 Inspire Compassion.
San Diego Humane Society is a non-profit animal welfare organization committed to ending animal homelessness. We have been saving animal lives and serving the community for 138 years and we're proud to be the safety net for 90% of our region's lost, abused and neglected animals. We also provide care for 12,000 injured and orphaned animals each year with the goal rehabilitating and returning them to their natural habitat. San Diego is home to more than 320 animal species, each uniquely contributing to the beautiful environment that we call home.
SDHS will be a refuge to 50,000 animals this year, and we put no time limit on how long animals remain in our care — a pet stays available for adoption as long as needed to find a loving home and wildlife as long as needed to heal.
We're in this together. Help us create a more humane San Diego.
Together we can make San Diego a safe haven for animals. We count on the community to adopt, spay/neuter, rescue, volunteer, donate and live in harmony with the wildlife in our community in order to achieve our mission.
In turn, pet owners can rest assured that they're not alone in the care of their pets. San Diego Humane Society is here as a resource for every stage of your pet's life. So whether you need training support, essential pet care, tips and information or financial assistance, you can turn to us for assistance. Or when it comes time to say good-bye to your beloved pet, and even when you need advice on living cohesively with wildlife, we're with you every step of the way.
Funding:
SDHS relies on the generosity of our community to continue to save animals' lives.
SDHS does not receive any portion of donations paid to national organizations.
SDHS operates independently of any other shelter group or organization.
SDHS is committed to 100% financial transparency. Financial information, including annual reports and audited statements, can be found here.
Our Programs and Services Include:
Adoptions: on-site and mobile (off-site). Every animal that we adopt out has been spayed or neutered, microchipped, is up-to-date on shots and has been evaluated for health and behavior.
Animal Adventure Camp (offered during school holidays and breaks).
Animal control and stray pet services (Escondido, Imperial Beach, San Marcos, Poway, Oceanside and Vista).
Animal cruelty and neglect investigations.
Animal Rescue Reserve: Rescuing animals in emergency situations.
Behavior helpline, training classes and private consultations.
Boy and Girl Scout troop programs.
Comprehensive medical and behavioral services for all animals in our care.
Educational programs for youth and adults.
Foster care program.
Intake of owner-relinquished pets and pets from other shelters.
Microchipping.
Owner-requested euthanasia for terminally ill or suffering animals.
PAWS San Diego: provides essential pet services and support to low-income seniors, chronically ill, and disabled individuals.
Pet-Assisted Therapy.
Pet loss support group.
Project Wildlife: the primary local resource for animal rehabilitation, conservation and wildlife education.
School outreach and supplemental programs.
Sheltering and adopting animals.
Spay and neuter services.
Vaccine clinics.
Volunteer opportunities for youth, adults and corporate groups.
Latest Stories