Working Cat Adoption Program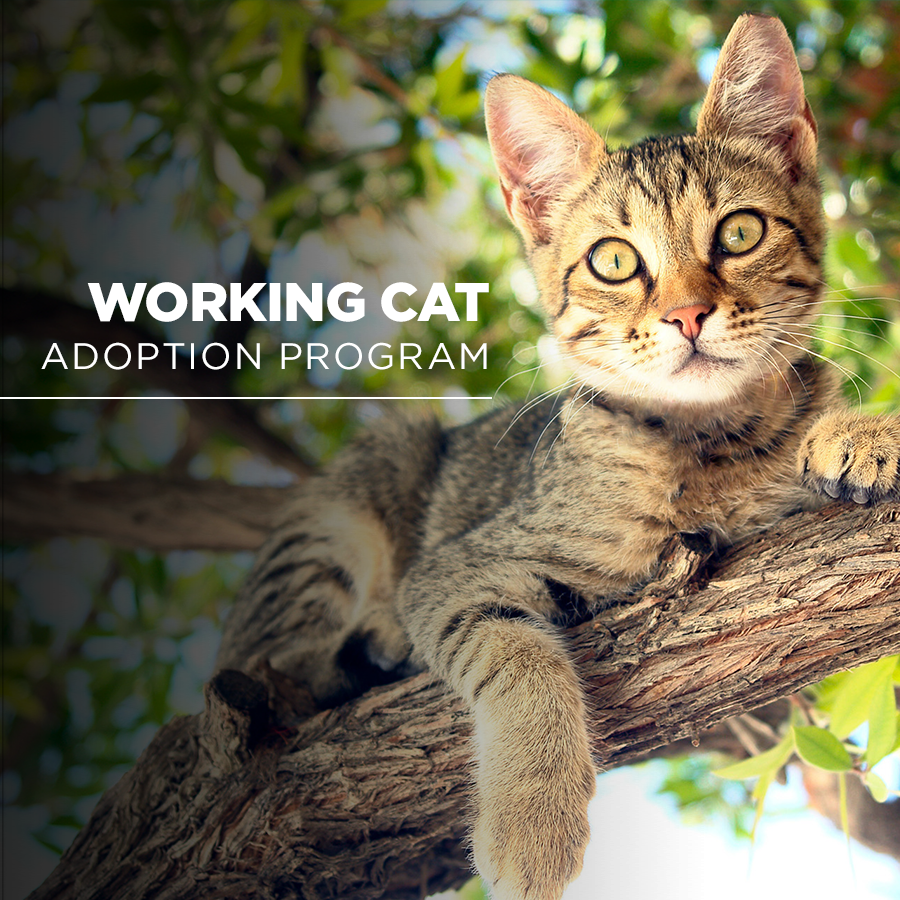 What is a working cat?
"Working cats" are cats who need to be outside to live happy, healthy lives, but who also need the support of a designated caregiver in order to thrive. While many cats who live outdoors are eligible for our Community Cat Program, we occasionally encounter cats who need the care of a designated owner but just don't want to or are not suitable to live indoors (for example, they may prefer not to use a litter box).
We match these special cats with adopters who have an outdoor shelter — such as a barn, shed, warehouse or other secure structure — to offer as a safe home. The cats are spayed or neutered, vaccinated, microchipped and available for adoption at no charge!
How do I adopt a working cat?
The first step to adopting a working cat is to join our waitlist! As cats become available, we will match them with the adopter who best fits their needs. Learn more about the program requirements below and then join the waitlist by submitting an interest form! Please note that we cannot guarantee the availability of adoptable working cats, and that it can often take several months or longer for a suitable cat to become available.
You'll need to provide:
A secure, dry shelter with easy access to the outdoors.
The commitment to keep the cats confined to an enclosed room or x-pen with a wire top for 2-3 weeks so they can acclimate to their new environment before being released.
The acclimation period is a very important step in helping cats learn that this is their new home, and that it is a safe space with food and water. This method is essential and cannot be skipped – if it is, cats tend to run away before they learn about the great home you're offering.
Sometimes new cats choose not to stay no matter how wonderful you make their new home. Don't worry: The cat will likely find an alternative shelter next door or down the street to call their own. We hope this doesn't happen, but if it does, we will do everything we can to help you and your new cats.
A clean litter box that is scooped and/or cleaned daily while confined.
A daily supply of cat food and fresh water.
While confined and for a short while after release, we recommended a small amount of canned cat food be provided daily. Canned food is very pleasurable to cats and will help them associate good things with their new environment.
Following release, the cat(s) will need dry cat food and fresh water daily.
Monitoring and providing for the safety and well-being of the cats.
Willingness to trap the cats and seek veterinary care in the event of a severe injury or illness.
How many working cats should I adopt?
We recommend adopting at least two, and up to five, working cats at one time. Cats are more likely to stay at their new home if they have the company and companionship of other cats. Being housed together or near one another during the acclimation period allows them to get used to the other cats. Once released, the cats will likely look out for each other and alert one another when any danger is present.
Join the Waitlist