Community Pet Pantry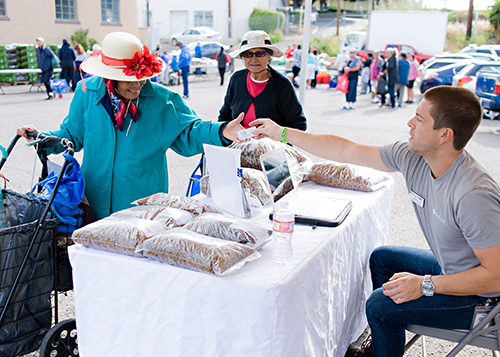 San Diego Humane Society is supporting families and their pets who need a little extra help. Through the Community Pet Pantry, anyone can visit our campus locations in El Cajon, Escondido, Oceanside and San Diego between 10 a.m. and 6 p.m., Tuesday through Sunday, to pick up a bag of dog or cat food as well as other supplies as available. No appointment is needed.
Tuesday-Sunday | 10 a.m. – 6 p.m.
See below for all locations and additional resources.
This year we've provided our community with:
1,726,081
Meals for Pet Families in need
612,889
Meals for our Rescue Partners
Donate Supplies
Want to support our Community Pet Pantry from the comfort of home? Items from our Amazon Wish List will be shipped directly to San Diego Humane Society!
Volunteer
We are looking for groups of to help support our Community Pet Pantry! You can bag food and litter or help organize our pantry. This opportunity is offered Wednesdays-Saturdays, depending on availability.
---
Need Supplies for your Pet?
If you are in need of food or supplies for your pet, visit one of our campuses or neighborhood distribution locations below.
San Diego Humane Society
Tuesday-Sunday
10 a.m. – 6 p.m.
El Cajon Campus
1373 N. Marshall Ave.
El Cajon, CA 92020
Escondido Campus
3500 Burnet Drive
Escondido, CA 92027
Oceanside Campus
572 Airport Road
Oceanside, CA 92058
San Diego Campus
5480 Gaines Street
San Diego, CA 92110
Neighborhood Distribution Locations
Sherman Heights
2nd Wednesday of each month
9 a.m. - noon
Sherman Heights Community Center
2258 Island Ave. San Diego, CA 92102
shermanheightscc.org
Spring Valley
4th Tuesday of each month
9 a.m. - 11 a.m.
New Seasons Church
2300 Bancroft Dr. Spring Valley, CA 91977
heavenswindows.org
Other Pet Pantries
Find additional pet food pantries in San Diego County here.
Thank You to our Partners!
Thank you to our partners who are helping us spread our reach into the community!