Behavior and Training
UPDATE
Due to the COVID-19 pandemic, in-person training classes and workshops have been suspended and will instead be virtual (registration below). Thank you for your support and understanding.
San Diego Humane Society offers a variety of training classes as well as other resources to address a variety of needs for companion animals. Our training classes for dogs and cats range from the basics to some unique specialty courses to address all your training needs.
Classes are organized by fixed series or open enrollment, and any class lacking an "enroll" button has filled. At this time all classes are offered live online via the Zoom platform.
Our training philosophy is based on the behavioral science concepts of positive reinforcement. Training your pet using these concepts will not only help them learn new behaviors more quickly, it will also strengthen the bond you share.
CONTACT US!
Behavior and Training Assistance
Questions about public classes: 619-299-7012, ext. 2398
Ask a trainer for advice (submit a training question to be answered by email)
---
Give the Gift of Training
Purchase a training class gift card for a loved one here! Gifts can be fixed amounts or customized.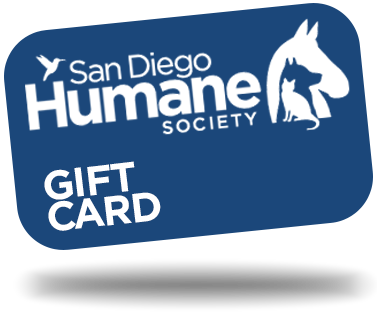 Training Classes
Click the class title for a pop-up description.
---
---
Open Enrollment Classes
Join at any time!
HEALTH
Dogs must be current on their rabies, DHPP (or equivalent) vaccines and be in good general health. Fees paid for dogs excused from class due to a medical concern that are unable to return to class will not be refunded.
BEHAVIOR
San Diego Humane Society group classes are not meant to address serious aggression or behavior issues. Dogs exhibiting these behaviors will be asked to leave and no refund will be issued. If your animal is displaying behaviors that may cause concern, please schedule a private training by calling 619-299-7012 ext 2398.
PREREQUISITE CLASSES/TRAINING
Some classes have prerequisites or items that must be completed prior to enrollment. Please read the description of each class to ensure you and your dog are ready to attend. If you enroll in a class and it is determined that your dog does not meet the prerequisites for participation, you will be excused from the class without a refund.
REGISTRATION & PAYMENT
Classes fill quickly. You may register online. Payment must be made in full at the time of registration, no exceptions. Please call 619-299-7012 ext 2398 if you need additional information about class availability.
ADOPTERS DISCOUNT
Please call 619-299-7012 ext 2398 prior to enrolling online.
ATTENDANCE
In deference to other students, those who arrive 10 minutes late to class will not be admitted and will be marked as absent. No class make ups will be given for students who are tardy.
REFUND POLICY
Classes must be paid for in full at least 72 hours prior to the scheduled start date, including online registrations and manual registrations.
If space is still available, class registrations will be accepted until the start of the scheduled class.
Refunds and cancellations are offered until 72 hours prior to the class' scheduled start date.
Students must request a cancellation no later than 72 hours prior to the scheduled class start date to receive a refund.
Refunds will be processed within one week of student's request for refund/cancellation.
No drop-ins, class transfers, or pro-rated class fees.
CLASS CANCELLATIONS, RESCHEDULING & HOLIDAYS
Most classes run weekly for six weeks - view specific class descriptions for more information. Classes can be cancelled and/or postponed with no notice. We will do our best to alert you if classes are cancelled or rescheduled, so you may adjust your schedule accordingly. You will receive the full number of sessions, but the class end date may be later than anticipated.
Below is the current list of days in which classes are not held. This is only a preliminary list of dark days; individual classes can be cancelled and anytime without notice and the end date adjusted accordingly. This is usually due to weather. Refunds are not given if you are unable to attend any scheduled classes.
Easter Day + the day before
Memorial Day
4th of July
Labor Day
Thanksgiving Day + the days immediately before and after
Christmas Eve
Christmas Day
New Year's Eve
New Year's Day

---