Jon Enyart
DVM
Sr. Director of Project Wildlife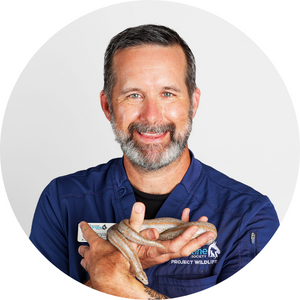 Dr. Jon oversees all things wildlife for San Diego Humane Society. He is responsible for the operational and medical departments of the Project Wildlife program. This includes the Pilar & Chuck Bahde Wildlife Center in San Diego and the Ramona Wildlife Center, as well as any wildlife related issues across the organization. Dr. Jon works closely with the Project Wildlife team and SDHS leadership to ensure the most updated protocols and medicine are available to their patients.
Dr. Jon first found his passion for wildlife at a very young age living in Kansas. Every frog, snake or bird who needed care was in good hands with his dad helping him provide first-aid. It was no surprise when he graduated from UC Davis School of Veterinary Medicine in 2006. While his goal was to help wildlife, he spent almost 10 years working in companion animal emergency hospitals. This allowed Dr. Jon to gain a vast amount of triage and intensive care training. He then spent almost 4 years developing skills and experience in holistic medicine, eventually becoming acupuncture certified.
In October 2018, Dr. Jon was hired as the first full-time veterinarian for the Project Wildlife program at San Diego Humane Society. His emergency and holistic experience has been instrumental in the development of standards and best practices for the wildlife of San Diego. He continues to build on his leadership abilities with the focus on being a supportive leader who helps all staff with education and professional development.