Purchasing From A Breeder:
Important Steps To Take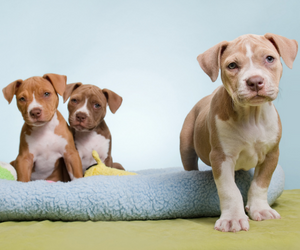 While we encourage people to consider adopting their pets from reputable shelters and rescues, we know some prospective pet parents prefer to work through a breeder to purchase their new family members. We encourage everyone considering to buy a pet to be mindful and do their homework to ensure they are working with responsible and ethical breeders. The best thing people can do is be aware of where animals are being sourced from so they aren't inadvertently supporting unscrupulous breeders or puppy mills. Animals can't speak for themselves, so they need us to be their voice. The more we can speak up on behalf of the animals we love, the better off all of us will be.
Here are some important steps to take:
Meet the breeder — see the conditions the mom is raising her puppies in.
Make sure the animal has been seen by a veterinarian — request vaccination records from the seller and confirm records with the veterinarian. Unvaccinated puppies and kittens may have already contracted a serious disease.
Be wary of a seller who wants to or sells animals from a strange location (i.e., a parking lot or street corner) — instead, try to meet the seller where the animal has been living. Conditions during the first few months of life can have a lasting effect on the animal's health and temperament.
Ask the seller questions — it's important to know the pet's history, temperament, etc.
Pay with a traceable form of payment rather than cash and ask for a receipt that includes an imprint of the seller's name, address and license number — a seller who only accepts cash or won't provide a receipt is not a reputable seller.
Ask for a health guarantee and find out if the animal can be returned for any reason — a seller who agrees to these conditions is more likely to care about the animal and have his or her best interest in mind.
Ensure the animal doesn't seem ill, depressed or lethargic — these could be signs of serious medical problems.
Consumers have the power to help put an end to irresponsible breeders by not buying puppies from them.
We encourage everyone to report concerns about unscrupulous breeders and violations of California's pet retail ban law, known as Bella's Act (AB 2152), and to report animal cruelty or neglect. Call our Humane Law Enforcement department at San Diego Humane Society at 619-299-7012 and press 1.
Published: January 23, 2023