Six Tips for Dog-Friendly Gardening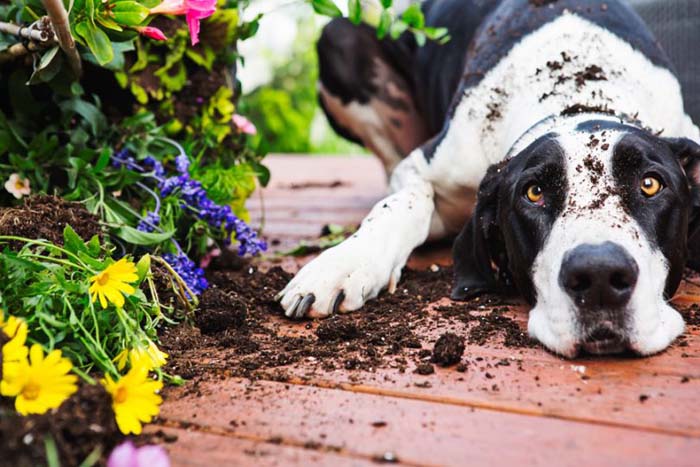 Spring has sprung! And with warmer weather approaching, you might be inspired to throw on your gardening gloves and give your yard a colorful new update. But if you have a dog at home, keeping a beautiful, well-kept garden can be a challenge. Digging and trampling are risks with a pooch around the yard, but luckily, there are many ways to keep your garden in great shape and safe for Fido. Check out our list of helpful tips for pet-friendly gardening.
1. Choose Plants Wisely
There are several plant species that are poisonous to our pets - daffodils, morning glory and oleander to name a few. Before introducing a new plant to your garden, make sure it is safe for your furry friend. Check the ASPCA's Toxic and Non-Toxic Plants web page for a full list.
2. Utilize Border Control
Try lining the borders of your garden with large, sturdy plants that provide a natural barrier and discourage your pet from crossing the line. You can also try lining your garden with pieces of driftwood, which drive dogs away from planted areas.
3. Fence-Off Restricted Areas
If there are areas in your garden that you don't want your pets entering, a simple solution is putting up a barrier. Fencing will deter small dogs and make it easier to train large dogs to avoid those areas.
4. Consider Elevating Your Plants
Putting your plants in containers or large planters will elevate them so your pets cannot have access to dig or disturb your plants. Hanging planters are a great option as well.
5. Create a Dog Path
Dogs love to patrol the perimeters of their territory, so any plants that reach the edges of your property are likely to get trampled. Creating dog-designated paths around your yard will allow your pooch to safely patrol the perimeter without causing damage to your plants. Just make sure it's a paw-friendly surface, like small cedar chips or an appropriate gravel.
6. Garden While Your Fur Baby Is Indoors
Dogs will sometimes mimic what their humans do. If your dog watches you dig in the dirt, he might think, "Hey that looks fun, I want to try!" Try keeping your dog inside while you tend to you plants.
Good luck and happy gardening!
Published: March 29, 2018