Meet a Mother-Daughter Foster Duo
Forty-seven and counting. That's how many kittens Deb Manis and her daughter Samantha (aka sdfostermoms) have fostered through San Diego Humane Society. What started as an Instagram obsession with The Kitten Lady (a San Diegan kitten rescue advocate) inspired Deb to take action.
"I started watching her videos and I thought, 'This would be something good for me to do,'" she says. "I'm a teacher, so I have summers off, and my daughter was about to start at San Diego State, so we decided to do it together."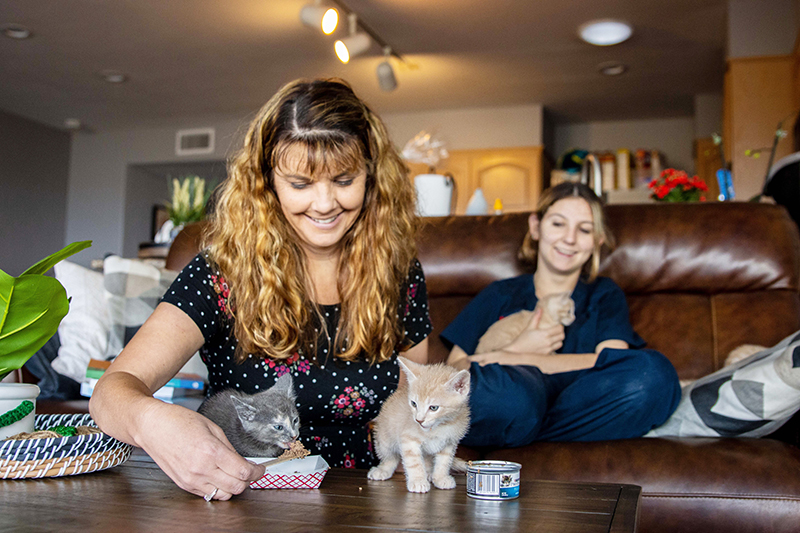 The duo started with babies who had already been weaned, so their main job was to make sure they ate and socialized. Then, Deb wanted to be trained on bottle babies.
"Once they got into last year's kitten season, they gave me my first bottle babies. They gave me a quick tutorial and I just took it from there," she says. "It freaked me out a little at first because if you're not doing it right, they just won't eat, but once I got the hang of it, it became part of my routine."
As bottle fosters, Deb and Samantha have to feed the kittens every three hours, rub their bums to get them to go to the bathroom and weigh them every day.
"It's a little more work, but it's really rewarding," Deb says. "It's like going from having a newborn baby to a toddler in just a few weeks. While you're doing it, you don't notice the changes every day, but then all of a sudden, it's like, 'Oh my gosh, they're doing this now!'"
As a teacher, Deb was even able to take some of her tiny kittens along to her classroom—kittens don't produce dander in the first few weeks, so allergens were not a problem—and allow her fifth-grade students to learn about the care that goes into raising them.
The question she receives most often about fostering is how she can give the cute kittens up when the time comes. She says it comes easily because she goes into it prepared to let them go. "There is nothing more rewarding than getting them ready to go and make another family happy," she says. "It's a good feeling to know that I was able to give them a positive start they wouldn't have had otherwise. We are able to relieve SDHS of some of the stress during kitten season and give that kitten a chance. Plus, that early socialization is huge. I feel that foster babies become better pets, because they've had the socialization that comes from a foster family."
Asked what she'd say to someone interested in fostering, Deb answers easily: "The best thing I can say is go in and try it. I'm proof that you can work a full-time job and still foster. I guarantee that once you do it, you'll find it extremely rewarding."
Published: April 6, 2020