Just Kitten Around
San Diego Humane Society's Kitten Nursery prepares for this season's cute new arrivals.
by Christina Orlovsky / photography by Chris Straley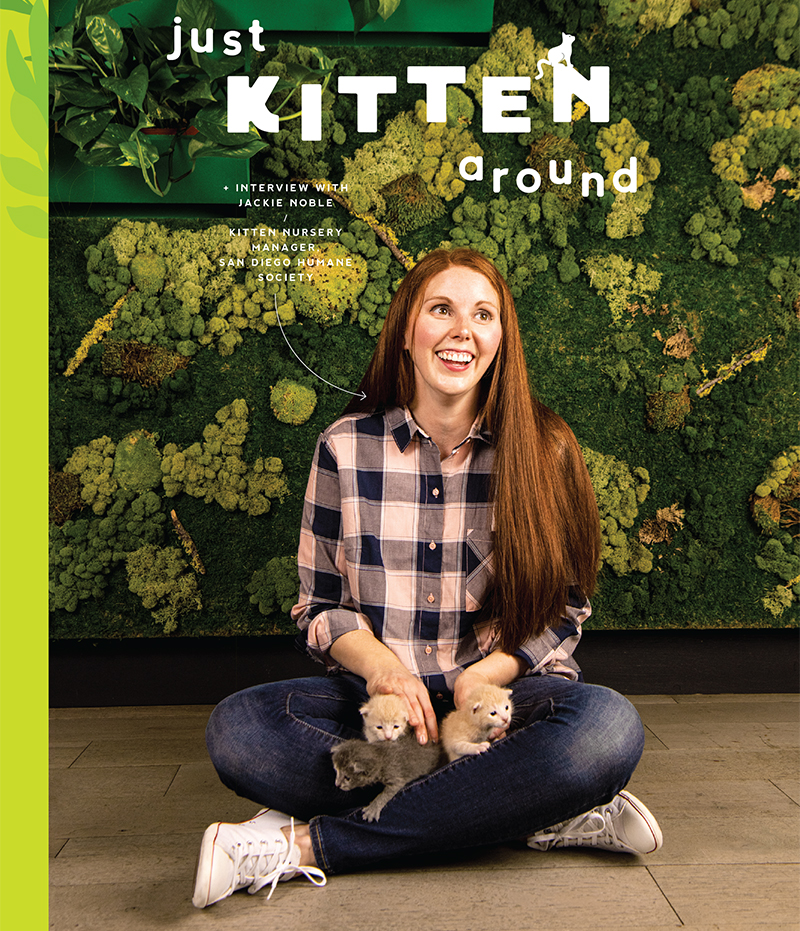 OH BABY!
Hundreds of babies, actually. It's kitten season in San Diego, and that means more than 1,500 newborns (and about triple that number of older kittens) will find themselves at SDHS, being cared for by the staff, volunteers and foster families who bottle-feed, bathe, socialize and nurture them until they're old enough for adoption.
"We open the nursery the first week of April, when we predict the most babies will enter the world," says Jackie Noble, Kitten Nursery manager, "and we stay open 24 hours a day caring for kittens until late November."
Here, Noble gives us an inside look at what goes on behind the scenes at the cutest place in town.
San Diego Pets Magazine:
What do you mean when you say it's kitten season?
Jackie Noble: Kitten season is weather dependent. In places with warmer weather—Southern California, Florida, Texas—kittens are born pretty much year-round. Once the days get longer and the weather gets warmer, it triggers cats to go into heat and that's when they get pregnant. With San Diego's nice weather, we have no shortage of kittens!
SDPM: Where do most of the kittens come from?
JN: Kittens are coming from everywhere! They can come in as surrenders from owners who may have adopted an outside cat and not gotten her fixed yet and she sneaks out and gets pregnant. We also transfer in kittens from our coalition partner shelters in San Diego. But the majority are born to what we call community cats—they live out in the community and someone feeds them and cares for them as outdoor cats. But since they're not indoor cats, they're often not spayed and end up pregnant. This is why we can't emphasize enough, if you are feeding an outdoor cat, get them spayed or neutered.
What usually happens next is that a community cat will have a litter of kittens and a good Samaritan will stumble upon them, think they're abandoned, grab them right away and bring them to us. Often, however, the mother cat is nearby and fearful of the person, so she's keeping her distance. Chances are, the mother cat will return to care for her babies if the person steps away. We say, "If you see a litter, be a sitter." That can be a tough call, however. If it looks like the kittens are doing well, watch and wait for the mom to come back. If they're in an area that's safe, their mother can raise them better than anyone else for the critical first few weeks of their life. Then, once they're a little older, such as when they're able to walk, play around and forage, you can attempt to bring in the kittens and trap the mom. We can spay and neuter all of them, adopt out the kittens, and the mother cat can go back where she came from without worrying about making any more kittens. This is the ideal situation. Of course, if you never see the mom, or the kittens appear to be hurt or abandoned, get them to us right away.
SDPM: Describe a typical day in the Kitten Nursery.
JN: As soon as we open in April, we're a 24-hour operation, so we're on a loop day in and day out for seven months or so. Our morning shift comes in at 5 a.m. to relieve the midnight-to-5:30 shift. They jump right into the feeding rotation. In each section there are 50 to 60 kittens who require bottle-feeding, and there will be two to four caregivers for those kittens throughout the shift. The actual care involves bottle-feeding and stimulating the kittens to go to the bathroom—they can't use a litter box or control their output until they're about 3 or 4 weeks old. We keep the kittens clean, and bathe them and comb them to make sure they don't have fleas, which are really dangerous for kittens. Caregivers also provide basic medical care, such as giving fluids if they're dehydrated, administering any medications the veterinarians may have prescribed, like eye ointment or antibiotics, and giving them dextrose through a syringe to make sure their sugar doesn't crash. Finally, there's cleaning—and a lot of laundry!
SDPM: When are the kittens ready to leave the nursery, and what happens next?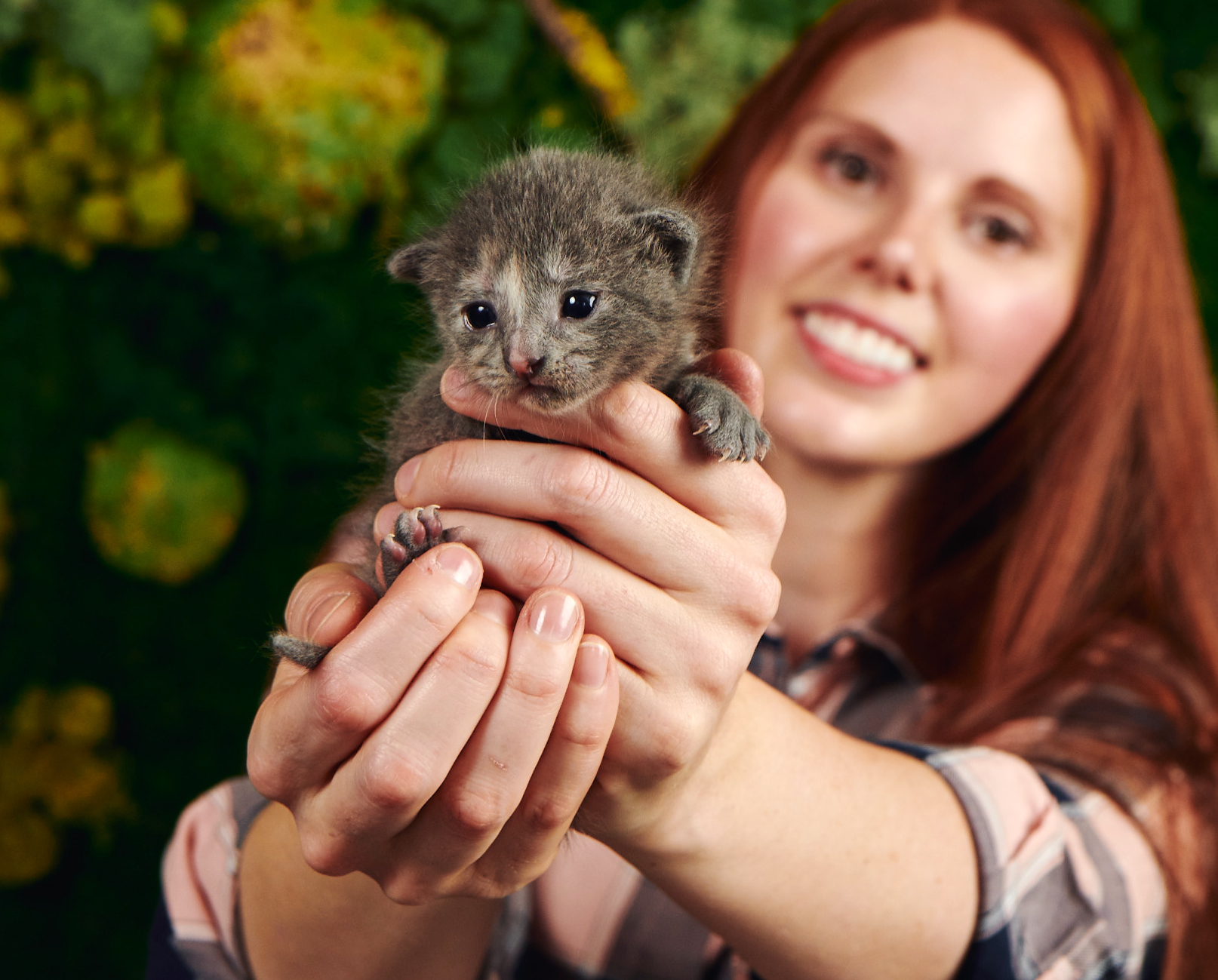 JN: Kittens are generally weaned off the bottle or their mother between 4 and 5 weeks old, and we start to adopt them out at 6 to 8 weeks old—after they are spayed or neutered. When a kitten comes to us at a day or two old, that kitten will be bottle-fed and raised in either the nursery or in a foster home until 5 weeks old, and then we'll begin the process to get her adopted. They come in as little peanuts and by the time they're ready to be adopted, they weigh 1.8 to 2 pounds.
SDPM: How can people help?
JN: First and foremost, if you are caring for an outdoor cat, part of that caregiving is getting him or her fixed. You can bring cats here to SDHS, and if they won't allow you to touch them, we have traps you can rent to help you safely bring them in to be fixed.
Once kittens are born, if you see them and they're in a safe place, you can help by either raising them on your own and then bringing them to us to be spayed or neutered at 6 weeks (visit alleycat.org/kitten-progression for help determining a kitten's age). Or, if you see the mother cat, allow her to raise them in her natural environment and then bring them in to us at spay/neuter age, which is when they're about 2 pounds.
If you're interested in volunteering at the Kitten Nursery, the first step is to apply and attend a training. We do a Kitten Nursery 101 class, and if you meet certain criteria, you can volunteer. If your goal is to snuggle and play with the kittens, the best way is to foster. The nursery is generally snuggle-free—caregivers get to do a lot of handling that includes feeding and cleaning, but don't hug and pet the kittens to prevent the spread of pathogens between litters.
If you'd like to support the nursery through donations, we have an Amazon wish list, and each year in April we host a virtual Kitten Shower to gather supplies. We accept donations throughout the year and have sewing projects online for people who'd like to make something for our kittens.
Finally, share our stories online or through social media to raise awareness about kittens in need. And don't forget about the adult cats! Kitten season can be a tough time for adult cats who are available for adoption. But adult cats will really show you their personality. If you come by the shelter, look at a young cat instead of a kitten—a 7-month-old with a playful energy—or a senior cat, the one who's been in the shelter the longest. Or when you adopt a kitten, take home a buddy, too. When it comes to kittens, pairs are the best decision you'll ever make!
---
Published: April 8, 2020