Oscar the Trash Can Kitty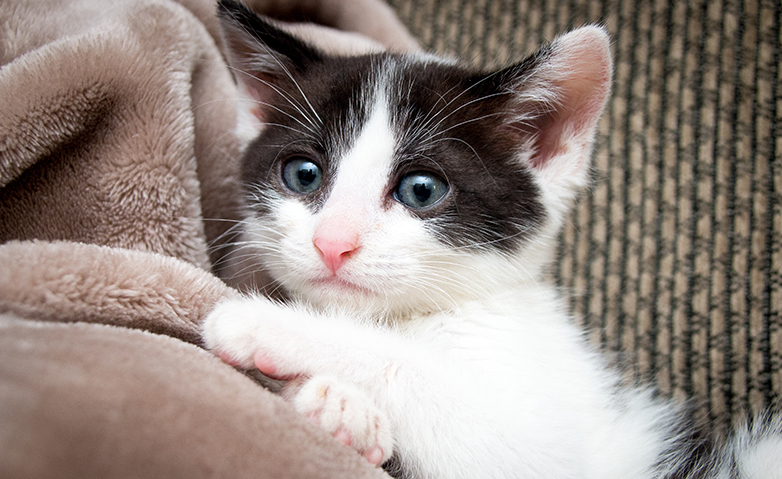 San Diego Humane Society's Humane Law Enforcement officers respond to some 2,000 reports of animal cruelty each year. Some stories stick with them more than others, like how one discarded kitten became a treasured pet.
A humane officer sent to Gompers Neighborhood Park, after meowing was heard coming from a trash can, found a sealed garbage bag. Inside was a dead mother cat and a tiny, barely alive kitten.
"We don't know who would do this, or why, or how they ended up tied in a trash can," says SDHS Kitten Nursery Supervisor Jackie Noble. "I've seen kittens who were cold, dehydrated, covered in maggots, but to have all three of those elements—for a 3-week-old kitten, that's not normally a good outcome."
The domestic shorthair kitten was named Oscar, after the grouchy Muppet who lives in a Sesame Street trash can.
He was in critical condition, but SDHS veterinarians were encouraged because he had some body fat. Dr. Elaine Jordan took him home to monitor him, knowing he might not survive to morning.
Fortunately, Oscar was stable within two days. He was then taken to the Kitten Nursery, which often cares for 150 orphaned kittens at a time.
"I was invested at this point," Noble says. "He has these big ears, he's cute, and he's got a cool personality."
She sees dozens of new kittens each day, but something about Oscar stood out. She took him home for a week-long foster trial, and he has been a member of her family ever since.
Noble has a soft spot for cast-off kittens: her 2-year-old blind cat, Davey, came to SDHS as a sickly 5-week-old. Today he's thriving.
"One of the quirky things about Oscar is he's constantly grooming himself. He's a very clean kitten. I put it to the situation he was found in," Noble says. "Other than that, he's your run-of-the-mill crazy kitten."
For more information about the SDHS Kitten Nursery, visit sdhumane.org/kitten-nursery
Published: February 4, 2020