Baby Shower Launches to Support Wildlife!
Public is invited to help San Diego Humane Society's Project Wildlife prepare for busy spring baby season!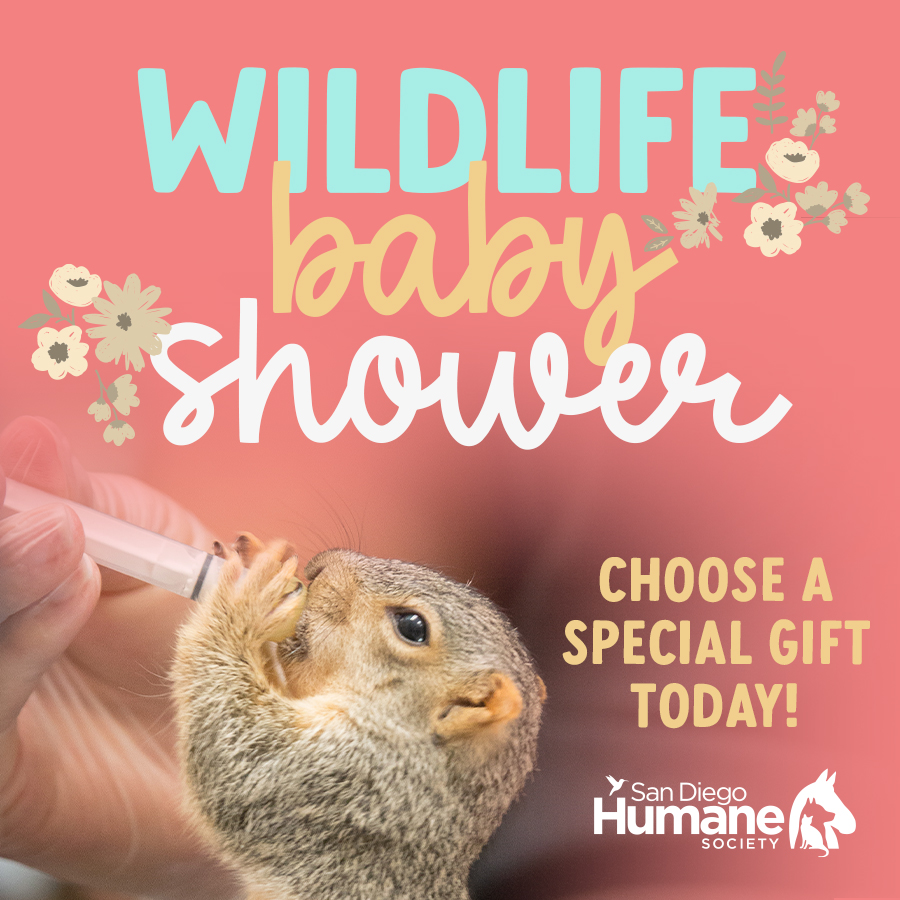 Baby squirrels, bunnies, raccoons, opossums, bobcats, hummingbirds and ducklings. Those are just a few of the species San Diego Humane Society's Project Wildlife program will see an influx of in the coming weeks and months. Every spring, Project Wildlife takes in thousands of injured and orphaned baby wildlife — and needs the community's help to give them a second chance! By donating a special gift from San Diego Humane Society's baby registries, the public will help prepare for the arrival of a wide variety of wild species.
The 13th annual Wildlife Baby Shower is a virtual event, where participants can choose to buy supplies from Amazon or Target, or simply make a donation.
Every heating pad, bag of birdseed and can of baby food purchased through the registries will be sent directly to San Diego Humane Society. "Your support will make a big difference for our tiniest wildlife babies," said San Diego Humane Society's Senior Director of Project Wildlife Jon Enyart, DVM. "Every single donation will ensure the smallest animals who need our help get the shelter, nourishment and medical care they need to thrive."
San Diego Humane Society's Project Wildlife program is the primary resource for wild animal rehabilitation and conservation education in San Diego County. Each year, SDHS gives more than 13,000 injured, orphaned and sick wild animals a second chance. In 2020, SDHS announced the Ramona Wildlife Center, where they specialize in caring for native apex predators and birds of prey, including hawks, owls, eagles, coyotes, bears, bobcats and, under special pilot authorization, mountain lions.
Published: February 2, 2023