Rattlesnake Season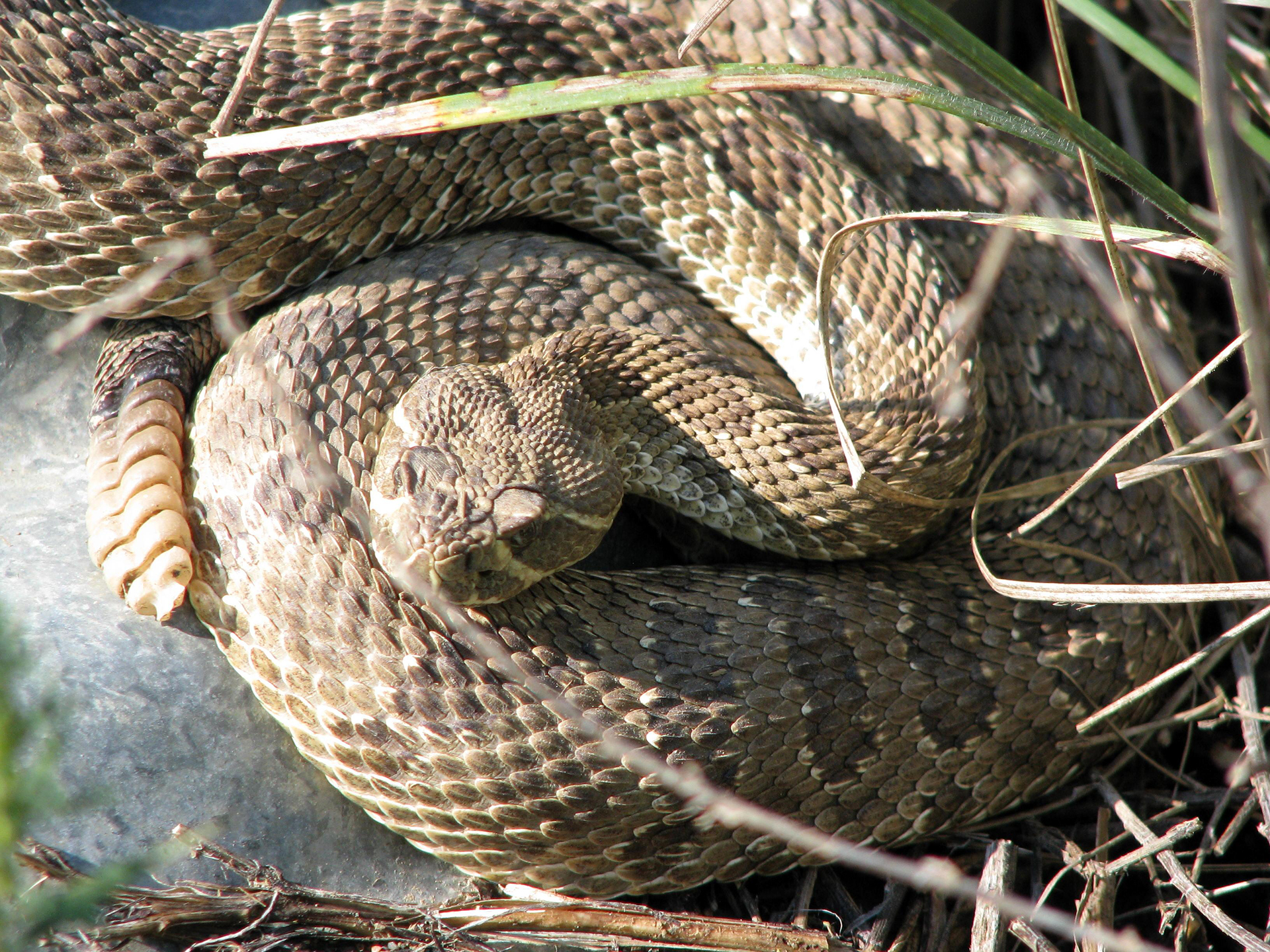 Four years ago, I wrote an article about rattlesnake awareness for a local online newspaper. Despite all the research I did on this topic, I still found comfort in the notion that a rattlesnake encounter would probably never happen to me and my dog, Sally.
Just a few weeks after my article was published, that naïve bubble I was living in burst.
One sunny October afternoon, Sally and I were hiking a local trail we frequented almost every weekend. Sally was off leash, trotting just up ahead of me near the trail when I heard the unmistakable, chilling sound of rattlesnake's warning.
Sally, intrigued by the rattle, started to explore the bush where the sound was coming from. Horrified, I ran towards Sally and desperately called for her to come over to me. But it was too late. When Sally emerged from the bush, she was whimpering and pawing at her face. I knew she had been bitten.
We were hiking on an out-and-back trail and Sally was bitten at the turnaround point, which meant we were at the furthest point possible from my car. So it took some time, but I was able to shepherd a very disoriented Sally all the way back to my car and zoomed over to the nearest animal hospital.
It turns out Sally had been bitten square on the neck, near her trachea. The venom affected her almost instantly so by the time we arrived at the hospital, she had severe swelling and neurological impairment. All four of her legs were seizing, so she had to be carried back to the treatment area. Just to stabilize her, the veterinary team had to administer two doses of antivenin and insert a breathing tube.
It was one of the lowest moments in my life, seeing Sally like that and knowing my own ignorance was the reason her life was in danger.
Luckily, after 3 days in critical care and a $7,000 veterinary bill, my sweet Sally made a full recovery. I use the word "luckily" because as a survivor, Sally really is considered lucky. Smaller dogs tend to succumb more quickly to the lethal venom of a rattlesnake and for the other pets that don't receive veterinary care in time...it's a dreadful way to leave this world.
My goal is to use this terrible experience as an opportunity to empower other pet parents to protect their animals, by avoiding the mistakes I made that day in October. While there are other preventative methods out there, such as a rattlesnake venom vaccination and training for rattlesnake avoidance, conflicting schools of thought exist on whether or not these approaches are actually effective.
Here are precautions to greatly reduce the chance of an unpleasant (and expensive!) rattlesnake encounter:
Always keep your dog leashed and near you on the main trail.
Since the main trail is typically clear of shrubbery and other potential rattlesnake hiding places, this is the safest place for you and your pet. Don't allow your pet to wander off leash or off the main path. My dog was bitten just a couple feet from the trail.
Just because you don't see a rattlesnake, doesn't mean they aren't around. Actively scan the path in front of you always, regardless of where you are. Rattlesnakes notoriously show up in places other than hiking trails, such as backyards, roadways and residential areas. Also scan the areas surrounding your path - it's common for rattlesnakes to nestle in the shrubbery that lines pathways and when threatened, they can lunge up to half their body length.
Always have a list of nearby veterinarians, specialty hospitals and 24-hour clinics. If there's a hiking trail, dog park or running path that you and your pet frequent, have a list of care centers near those places as well.
Know "the season" and acknowledge that the threat is always real.
While rattlesnake bites can happen all year-round, snakebite season spans April through September, when the temperatures are warmer and snakes come out to sunbathe. Take extra precaution when outdoors with your pet during this time.
Have health insurance for your pet.
I highly encourage all pet parents to have health insurance on their pets. Policies are affordable (I pay just $37 per month for Sally's policy through Healthy Paws Pet Insurance) and comprehensive – my policy covers 90% of costs related to injuries and illnesses. I've also heard very good customer reviews from MetLife.
In the unfortunate event that your dog is bitten:
Don't panic, but act fast.

Pick your pet up (if you can) and immediately drive them to the nearest animal hospital.
Allowing them to run or jog back to the car increases their heart rate which enables the venom to spread more quickly through the bloodstream.
Alert the hospital. On your way to the animal hospital, call them to let them know you're coming and that your pet was bitten by a rattlesnake. Not all animal hospitals keep antivenin onsite, so they may direct you to another hospital that can help your pet.
Know where to look for financial assistance, should you need it.
If you don't have a pet insurance policy or experience difficultly paying for the life-saving care your pet needs, contact The Foundation for Animal Care and Education (FACE). This local organization provides financial help to pet parents who are unable to pay for emergency veterinary costs for their beloved animals.
---
To learn how to train your dog(s) to safely avoid rattlesnakes using positive training methods, visit: tawzerdog.com
---
About the Author – Christina is a proud dog mommy to Sally and passionate about pit bull advocacy and animal welfare.
Published: