An Ode to Rats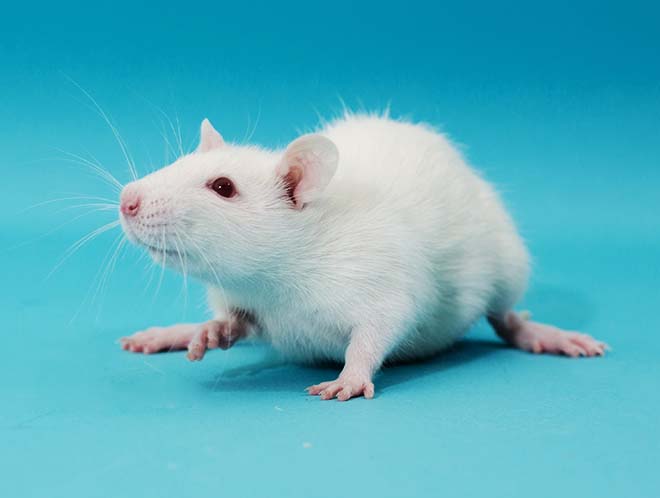 These cuddly domesticated rodents make very fancy pets.
Can you name a type of pet that loves to cuddle, responds to its own name, self-grooms, can play fetch and forms lifelong bonds with people? Chances are you didn't answer "rats." But these lovable rodents—technically called fancy rats—are full of surprises. They do all of the above, and even love to chill in a cozy hammock.
As rat owners know, this domesticated subspecies of the common brown rat is naturally friendly, curious and intelligent. They're big fans of being handled and have a way of finding cuddly spots on their owners' shoulders or laps. Extending a gentle hand, and maybe a morsel of food and some patience, is all it takes to become fast friends.
The smartest of all rodents, rats can learn tricks, solve puzzles and be trained to use a litter box.
Rats very rarely bite and pose little risk of being harmful to humans. You may know them for their short black, white or brown coat. But fancy rats are available today with long, soft fur, too. They can live up to two or three years.
They mostly eat rodent chow, but enjoy some produce and, occasionally, nuts (no almonds, though). Contrary to popular belief, cheese should not be a substantial part of their diet. Rats have a cute—and very tidy—habit of collecting their food in little piles. They love to gnaw and nest, which is why rat cages often have cardboard, paper or something else they can safely nibble away at.
Rats do best with a buddy. When living together, they groom each other and cuddle. But since they often can't be spayed or neutered, males and females should be kept apart. They're nocturnal and enjoy lots of exercise, so be ready for a bit of nighttime scurrying and wheel running.
Find the perfect new pet for your family at sdhumane.org/adopt.
Published: March 25, 2020