School Outreach Programs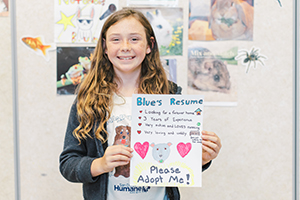 Youth Programs Mission
Our Youth Programs create impactful connections and nurture a healthy relationship between kids and animals. We envision a community where all children have the opportunity to engage meaningfully with animals and learn how to respect, advocate and show kindness for all living beings and the environment.
School Outreach
Our school outreach program currently focuses on Title 1 schools in the following zip codes: 92102, 92105, 92113, 92114 and 92154. This ensures we are reaching communities and youth where our programs and services will be most impactful.
If your school is located in the above zip codes, please email [email protected] to learn more and schedule a visit. If your school is located outside of the above zip codes, please see below for other opportunities. You can also visit our Humane at Home page for educational videos, books, resources and other ways you can inspire compassion in your classroom!.
Virtual Field Trip
For schools outside of our focus areas, we can offer a 45-minute virtual field trip. This virtual visit gives students a behind-the scenes look at our San Diego Campus and what it takes to care for thousands of animals each year! Students will learn age-appropriate lessons about responsible pet care, adoption and the programs and services we offer for pets and their people - all from the comfort of your classroom! These have been a great succes and a favorite of many classes over the last year!
Please submit the Virtual Field Trip Request Form to schedule your visit!
Compassionate Classrooms
Classrooms that host a fundraiser for San Diego Humane Society will receive a certificate and an in-person visit with an animal ambassador. To get started with your fundraising project, please submit the Compassionate Classroom Interest Form.
Classroom Foster
Teachers can foster a small pet in the classroom! This program provides a small pet with a break from the shelter while they await adoption and allows teachers an opportunity to incorporate real world lessons about responsibility, kindness and respect into their classrooms. To learn more about this opportunity, please email [email protected].
Classroom Foster FAQs
What type of animals are available to foster?
Classroom teachers currently have the opportunity to foster small pets, including rabbits, guinea pigs, hamsters, rats and mice. Some of our animals may already be in bonded pairs, so you could potentially have more than one pet, but they would be housed together. You will be matched with a good fit for you and your students!
Can I choose which type of animal I would like to foster?
Yes, but it will depend on who we have available at the shelter. Also, we may encourage you to foster a certain type of animal if we have a large number of them in need at the time!
What is the time commitment?
The minimum time commitment for this opportunity is two weeks, but you could foster the animal until adoption if interested! The length of foster assignments varies based on the needs of the animal and the time it takes for the animal to get adopted. You will receive an approximate duration before you commit to an animal, and we will match you with a foster assignment that works with your schedule, availability and interests.
What do I do with my foster pet on the weekends?
As a foster volunteer, you will be responsible for providing daily care to your foster pet. We prefer that you take your foster home on the weekends if possible, or you can arrange to come in to the classroom to care for and spend time with them.
Do I have to provide the necessary supplies to care for my foster pet?
San Diego Humane Society will provide most of the supplies needed to care for your foster pet, including a cage/pen, food, bedding and enrichment items. The foster volunteer provides fresh fruit and veggies and additional enrichment items (when appropriate). Having your students make items from our Small Pets DIY Packet is a great way to get them involved in the care of the pet!
What training or support will I receive while I foster my pet?
Foster volunteers will have access to our online training and volunteer manual. A classroom liaison volunteer will also provide in-person training and support for you to learn more about how to care for and safely handle your foster pet. The liaison volunteer and a San Diego Humane Society staff member will be your point of contacts in case you need any assistance throughout your foster journey! We can also provide a lesson about pet care and responsibility for your students while you are caring for your foster pet.
Can I help my foster pet get adopted?
Yes! We encourage you to spread the word in your classroom and beyond to help your foster pet(s) find a home.
Educational Resources
Please visit our Humane at Home page for videos, handouts, activity ideas and reading recommendations to inspire compassion in kids at school or home!
If you have any questions or would like to learn more about our outreach programming and opportunities, please contact Staci Hurley at [email protected].