Puglets!
Introducing Leah, Leo and Liam - the puglets! This ridiculous trio of smooshfaces are certain to dazzle and delight as they grow up, so be sure to check back often for updates! Okay then... you Ready!? Get Set! Watch these puglets Grow!
WARNING: the following videos may cause uncontrollable squeals, gasps and embarrassingly high-pitched baby talk. ...I mean, c'mon friends. Look at these three ridiculously adorable tater tots! Just LOOK. They grow up so fast, don't they? And their smooshfaces are simply too much for us. So by all means, please enjoy this puglet distraction, and don't say we didn't warn you!
What a difference 2 weeks makes! Eyes open, faces oh-so smooshy, tummies nice and round – good grief puglets are the CUTEST! Here are some video clips of Leah, Liam and Leo at our Nursery for their checkup appointment. These appointments are usually pretty quick, but, well... these cuties may or may not have been treated to a full-on photo shoot. I mean, can you blame us?!
These sweet babies are just one day old here! The puglets were born an hour apart - their poor mama was in labor for quite a long time! Thankfully, they have been able to go to a foster home with their mom, who needed a little help at first but is now taking to her mommy duties like a pro. All three of these little cuties are doing well and we will continue to share updates as they grow!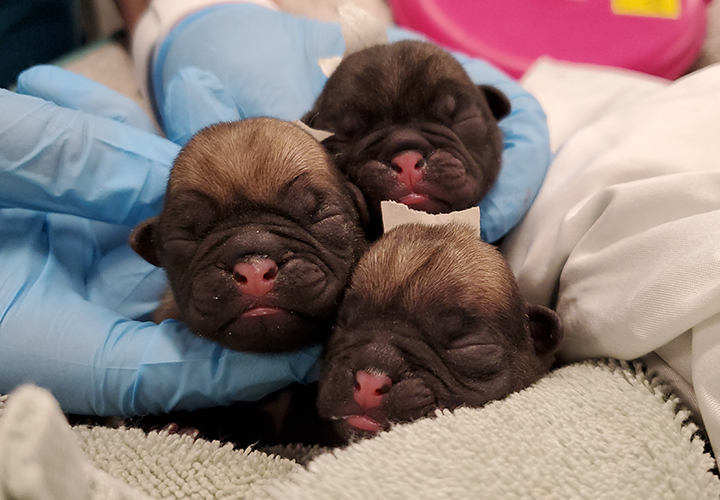 Published: April 27, 2020