Community Cats
and Trap-Neuter-Return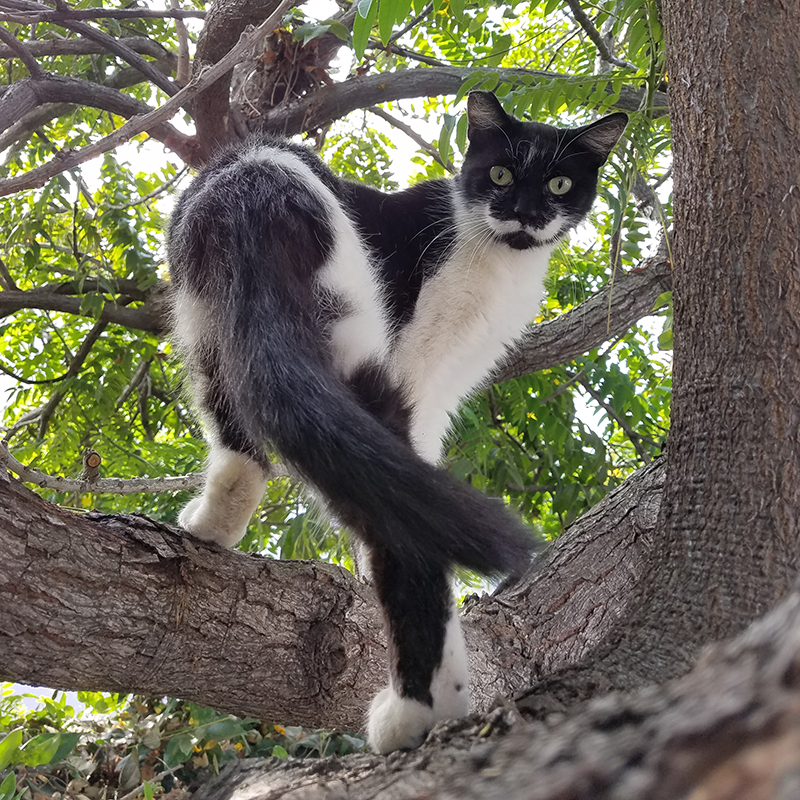 San Diego Humane Society works to improve the lives of free-roaming cats in our community and reduce the unnecessary euthanasia of healthy, community cats. In the state of California, cats can be free-roaming and aren't required to be licensed or live indoors, although we recommend that owned cats live indoors. It's important to know how to live in harmony with community cats or use humane methods to deter them when warranted.
Research has shown that confinement in a home or shelter can be detrimental to their health and overall quality of life, and that the most humane and effective solution for community cats, and the community at large, is to implement a strategic Trap-Neuter-Return program.
Through a TNR program, community cats are spayed or neutered, ear-tipped and vaccinated, treated for minor medical issues, then returned to their original locations if they are deemed to be thriving. An ear-tip is a universal indicator that a community cat has been spayed/neutered and vaccinated. This improves the lives of free-roaming cats by allowing them to live where they're flourishing and prevents suffering due to the stress of shelter confinement. TNR programs also create safer communities by reducing the number of unvaccinated cats, and addresses the root cause of cat overpopulation by preventing breeding.
SDHS offers free spay/neuter, vaccinations (FVRCP and rabies) and ear-tipping for feral cats at each of our campuses. Additional services such as microchipping are available upon request for an additional cost.
Rent a Trap
A small inventory of humane traps are available to rent for a deposit of $65, which is fully refunded upon return of the traps within seven days. To rent a humane trap, you must have an appointment for spay/neuter (free of charge) of the community cat and be willing to return the cat to her outdoor home.
Contact San Diego Humane Society for more information or to schedule an appointment.
What is a Community Cat?
A community cat is any outdoor, unowned, free-roaming cat. These cats could be adults, kittens, friendly, feral, healthy, sick, altered and/or unaltered. They may or may not have a caregiver. The only outdoor free-roaming cats who are not community cats are those who have an owner.
How to a Determine Community Cat from a Stray Cat
A stray cat is a domesticated cat who is lost or abandoned. Stray cats are usually tame and accustomed to contact with people. They typically seek out human contact and exhibit behaviors such as meowing or purring. Stray cats will also often try to make a home near humans, in car garages, front porches or backyards. A stray cat who has only been coming around for a few days should be given the opportunity to find her way back to her owner; it is best not to feed or trap her during this time. In contrast, unsocial cats are notably quiet and keep their distance from people, are more likely to live in a colony and more likely to be nocturnal.
General differences in appearance and behavior include:
Stray cat:
May approach people.
Will likely be alone.
May promptly approach food.
May be vocal.
May have a collar or other identification.
Usually will not have an ear-tip.
Community cat:
May avoid people.
May live in a colony.
May wait until you move away before approaching food.
Will be silent, if feral.
Will have an ear-tip if altered as part of a TNR program.
Why not trap and remove all the cats?
Simply removing cats from an area opens up an ecological void that allows more cats to fill and a new cycle of reproduction will begin. When cats from colonies are sterilized and monitored by a caretaker, the cat population will stabilize and gradually decline over time, which is the ultimate goal of TNR. Euthanasia of healthy community cats is not a humane option.
What happens if a community cat cannot be returned to where she was trapped?
Relocation removes community cats from their familiar homes and puts them somewhere unfamiliar, leaving them stressed and disoriented. They are typically attached to the other cats in their colonies, deeply rooted to their outdoor homes, knowing the best pathways, the coziest places to sleep and where they can find food and water. Successful relocation requires a careful procedure. If the community cat is not in danger in her current environment, it is most beneficial to return them to their outdoor home.
SDHS's Wild at Heart program also helps cats who are not able to be released back to their outdoor homes and those who are not accustomed to living in and indoor environment.
Do outdoor cats kill birds and wildlife?
Although community cats often hunt to survive, TNR reduces the impact on birds and wildlife by gradually decreasing the cat population over time.
What if wildlife is trapped in my cat traps?
Wild animals, such as raccoons, opossums and skunks will be attracted to humane traps set up for cats. If you accidentally trap a wild animal, it is your responsibility to release them in the same location where they were trapped. It is not humane to remove or relocate wild animals. In some cases, it is illegal to do so. For further questions regarding wildlife, please call our Project Wildlife program at 619-225-WILD (9453).