Our Hurricane Relief Efforts Continue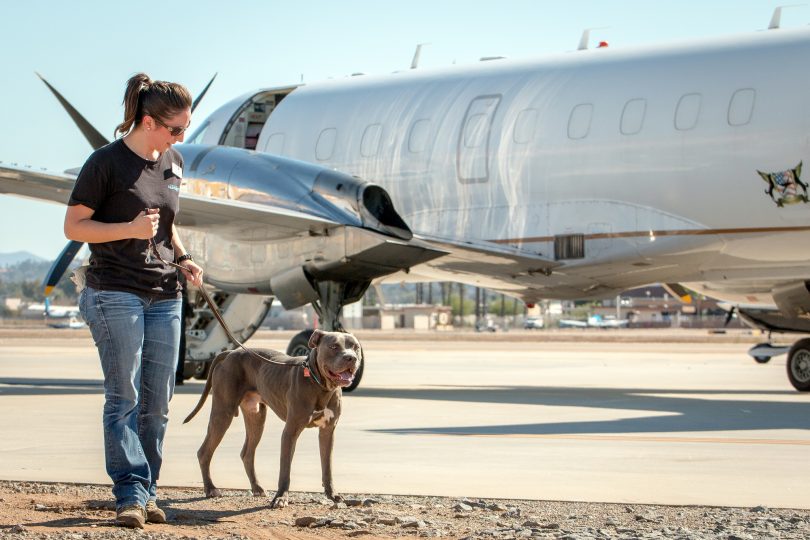 The 2018 hurricane season has been a busy one for San Diego Humane Society.
On the heels of sending our Emergency Response Team to the East Coast just three weeks ago to rescue more than 100 animals affected by Hurricane Florence, we've welcomed 93 dogs this week from the Florida panhandle to help in the aftermath of Hurricane Michael. We've also deployed another team to Florida to help care for shelter animals displaced by the disaster. We're committed to helping animals both near and far, which is why we always respond to these calls for help.
A plane full of pets: Ninety-three dogs arrived at Gillespie Field Thursday from animal shelters throughout the Florida panhandle. These animals were already in local shelters there, so we agreed to take them in to make room for lost animals affected by the recent hurricane. The need for collaboration with local, hard-hit animal shelters to transport and care for their animals has become all too common as we deal with more frequent disasters throughout California and around the country. These dogs are now getting vaccinated, microchipped, spayed/neutered and receiving all the love and care they need to be ready for adoption here in San Diego. We anticipate they will be available for adoption in 1-2 weeks, so follow us on Facebook, Twitter and Instagram to be sure you see the announcement! You can see more photos of their arrival HERE.
Heroes in action: Our Emergency Response Team returned safely back home from Horry County, South Carolina after Hurricane Florence. During their 10-day deployment, this team helped more than 100 animals, including dogs, cats, a goat, a 150-pound pig and cattle. They rode in boats, drove in trucks and walked through flooded neighborhoods to save pets and livestock left behind when their owners had to evacuate. They are also professionally trained in swift water rescue for these types of disasters and pulled out two young bulls and a heifer using floatation harnesses and floated them to safety one at a time. You can see just two examples of these heroic rescue efforts and the devastation left by the hurricane in videos here. Finally, we deployed another team yesterday to Bay County, Florida. They're currently helping to care for shelter animals in a temporary facility because their shelter was severely damaged in the storm. Imagine losing your home and also having to worry about being able to keep your pet. Freeing up space in local shelters by transporting animals here helps more pets get the care they need and be safely reunited with their owners. I'm glad our teams could help provide peace of mind to so many hurricane victims. There are many great organizations who help in times of need. We're honored to be among them.
Working with other organizations during these hurricanes reminds me of the importance of coming together during times of such devastation – not just for animals in need but for people as well. We will always offer to serve as first responders and welcome shelter animals in need into our care. Your commitment to San Diego Humane Society makes it possible for us to respond during times of disaster. And to be here when those times may affect our own region.
You are a critical part of our rescue work. Thank you for helping us truly be the safety net for people and animals.
Always grateful
Gary Weitzman,
DVM, MPH, CAWA
President and CEO
San Diego Humane Society
Published: November 13, 2018