One Month Down! We're Proud to Serve this Community.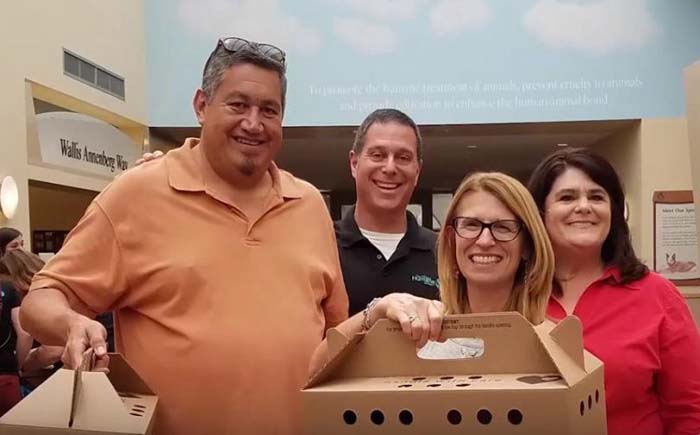 2,000:That's how many lost and stray animals have found refuge at San Diego Humane Society in our first month as the new animal service provider for 12 San Diego County cities. An alarming 542 of those were just in the week following the July Fourth holiday. It's been a busy month at SDHS, but an incredible one because we've begun to see the astounding impact we can make for animals in San Diego. I've been in awe of the way our staff and volunteers have handled this new responsibility.
We began providing animal services to six more cities on July 1, marking the biggest milestone San Diego Humane Society has achieved in our 138-year history. We're now serving more than 2.2 million people across 620 square miles, making our humane law enforcement team the largest in California. Here are some achievements from our first month:
We cared for more than 3,400 homeless companion animals to give them a second chance.
1,675 animals were adopted in the month of July.
Our humane law enforcement team has been in the field each and every day to protect animals in our region. This incredible team responded to nearly 2,400 calls of animals in need this first month.
Project Wildlife provided triage and care to 1,750 injured or orphaned wild animals.
PAWS San Diego delivered 94,000 pet meals to low income families to help them keep their pets at home and give them one less thing to worry about.
Now most of the 45,000 animals entering San Diego shelters each year, as well as the 12,000 wildlife we take in, are safe in our care. And our vital programs continue forward, stronger than ever. We couldn't do this important work without you – our supporters and advocates. Together we took a stand for animals and our community will forever be changed – and better – as a result. Thanks to you, more San Diegans are benefitting from:
Expanded adoption services, humane law enforcement and specialty programs like the Kitten Nursery, Behavior Center, PAWS San Diego and community outreach.
Double the number of employees serving these six new communities; plus the additional support of a 5,400-strong volunteer army.
Expanded service hours and coverage seven days a week.
Thank you for helping us carry out yet another extraordinary step toward saving more lives. Together we're truly changing the landscape of our community for vulnerable animals and the people who love them.
Always grateful,
Gary Weitzman, DVM, MPH, CAWA
President and CEO
San Diego Humane Society
Published: August 3, 2018