Pet Disaster Preparedness Information
Checklist for Pets and Large Animals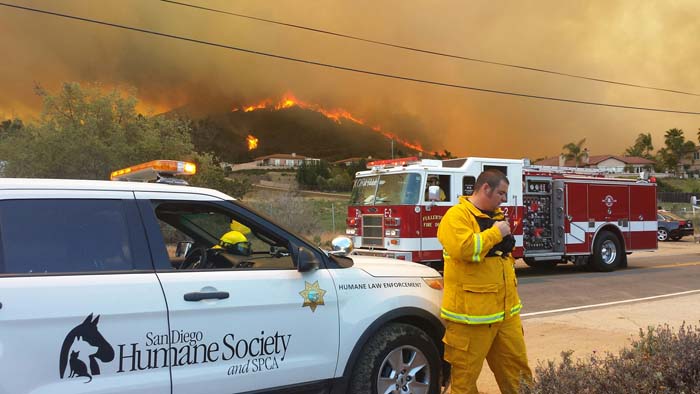 With Southern California prone to earthquakes and wildfires, it's important for pet owners to have an emergency plan in place and ready. Below are some quick tips on how to prepare for and evacuate with your pets in a disaster:
Plan Ahead:
Evacuation shelters generally don't accept pets and for this reason it's important to plan ahead to ensure that your pets and family will have a safe place to stay. Research hotels and motels outside your immediate area for pet policies and ask friends and relatives outside the area if you and your pets can stay with them in case of a disaster. Ask your local animal shelters and veterinary boarding facilities if they will board or shelter pets in an emergency (however, this should be a last resort as these facilities are likely to be stretched to their limits during a disaster). Also if you own multiple pets, be sure you have enough crates or items to transport all of your pets in at the same time.
---
Identification:
Make sure your pets are wearing proper identification at all times; this includes animals that don't normally go outside. Having your pet microchipped can further protect your pet and help identify them if they were to become lost. It's a good idea to include your cell phone number or the phone number of a friend or relative outside your immediate area in case your pet is lost and you aren't at home.
---
Leave Early and Take Your Pets:
One of the most important things to do if you are evacuating your home is to take your pets with you because you may be forced to stay away longer than anticipated. In addition, leave early and don't wait for mandatory evacuation orders because if emergency officials have to evacuate you, you might be told to leave your pets behind. Also, your pets will be less stressed if they are with you when evacuated versus a rescuer they don't know going in later to get them.
---
In Case You're Away:
A disaster may strike or an order to evacuate may come when you're away from home. Make arrangements in advance with a trusted neighbor (who is comfortable with your pets and knows where in the home they are likely to be) to take them and meet you at a specified location.
---
Large Animals:
If you have large animals or livestock, have enough trailers or travel containers available for all of these animals. Work with your animals to be sure they are used to being loaded and unloaded from their trailers or travel containers. If possible, make arrangements with boarding facilities or a friend with a ranch in a different area to take in your large animals in the event of a disaster.
---
Prepare a Pet Emergency Kit:
Put the following supplies in a water-proof container:
Three-plus days supply food and food bowls, water and two weeks of your pet's medications
Litter boxes with litter, if you have cats
Extra leashes and collars
Vaccination and medical records
Photos and descriptions of each pet
Pet first aid kit and pet first aid book
Stickers you can attach to your pet's tags with the information of your intended destination and outside temporary contact information
Remember, in case of a flood, fire, earthquake, hazardous spill or other disaster, your animals will rely on you to help them escape. Therefore the more prepared you are, the safer you and your pets will be!
---
Quick Resources: As portions of San Diego County are on fire, we wanted to pass along the below websites that have up to date information:
Emergency information can be found at sdcountyemergency.com.
Preparedness information can be found at ReadySanDiego.org and ListoSanDiego.org (Spanish) sites.
The SDEmergency app has English and Spanish versions.
The SD County information is updated on Twitter via @SanDiegoCounty and in Spanish on @ListoSanDiego.
---
Published: December 7, 2017