Second Chances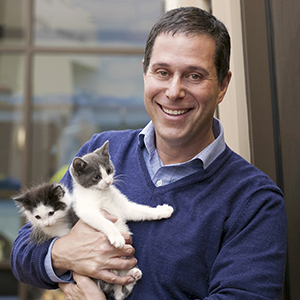 I love pit bulls. I have one, Betty, and she's an absolute doll. I could leave her with infants and guarantee nothing would happen except they'd learn to love dogs—and get licked a lot. Unfortunately, that's not the case with all pit bulls (technically not a breed, but a mix). Some can be difficult, and while they're not the dogs who bite the most, when something does happen, the debate over "dangerous" breeds reignites.
A significant portion of the dogs who come through San Diego Humane Society could be classified as pits, and some do have behavioral issues. Before SDHS's Behavior Center opened in 2013, these and many other bully breeds may have faced euthanasia if they were deemed "unhealthy" due to behavior issues. We didn't want to euthanize animals we thought we could give a second chance with behavior rehabilitation. We'd made so much progress toward no euthanasia for otherwise healthy pets, and the Behavior Center helped us close that last gap.
It initially catered to bully breeds—we make sure they're as well-behaved as possible before they go to a new home—then transitioned to help all animals who aren't quite ready to be adopted. We've seen everything from fearful Chihuahuas and not-quite-feral cats to dogs rescued from the Korean meat trade who had no idea what a nice human could be. (Read Woody's Behavior Center success story.)
Now more than 3,000 animals have undergone rehabilitation at the Behavior Center. It's become one of our most important tools for saving lives. Recently, the center moved into a new home across from our main campus. This state-of-the-art facility is designed to lower stress levels and help animals heal.
I think we owe it to the animals—their behavior problems are our fault. Some issues stem from a lack of socialization, though we can't always be sure what kind of experiences an animal has had. Ideally, socialization starts within the first few months of life, but it turns out old dogs (and cats and rats and rabbits!) can learn new tricks. When you get a pet, from a shelter or otherwise, one of the first calls you should make is to a positive reinforcement trainer. You might luck out and get a perfect pet, but we all could still use a little help.
SDHS has manners and other specialty classes and playgroups. Even kids can get in on the training game. My new National Geographic Kids books, Pounce and Fetch, go to print this summer.
Unfortunately, sometimes we have to face facts and admit our new pet just isn't a good fit. SDHS can help with that. If you've exhausted everything else, come to us. We may be able to give you more options. While our goal is to help pets stay adopted, we're always here for the ones who need a second (or third) chance.
Gary Weitzman, DVM, MPH, CAWA
President and CEO
San Diego Humane Society
Published: January 14, 2020