Sharing the Love by Letting Go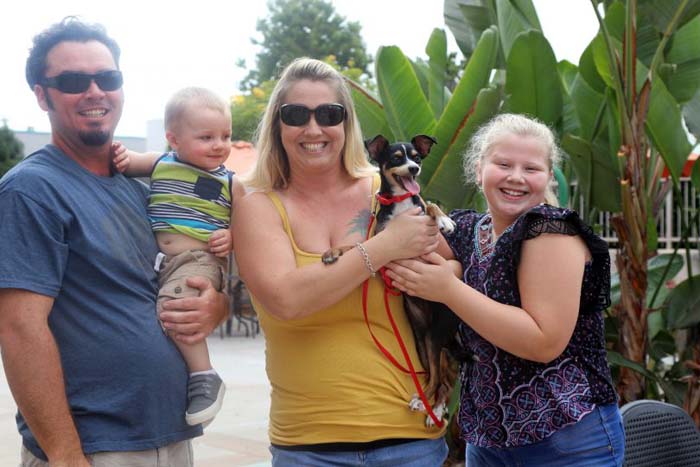 Animal sheltering has never been easy work. Every single day our staff and volunteers are hard at work, mending the emotional and physical wounds of sick, injured, orphaned and homeless animals. Sometimes this healing can take months or even years. Naturally, we grow attached to these animals. Their stories affect us. Their recoveries lift our spirits. Their unrelenting capacity to love and trust inspires something inside of us.
Just this past weekend, we participated in a nationwide event called, "Clear the Shelters." Nationally, participating shelters placed more than 93,000 animals. This was a great thing. But it was also a contentious one among some animal lovers. Throughout California, we saw comments warning participating shelters not to give away their animals. I'm sure similar comments were occurring all over the country. That's old school thinking.
Working in a shelter, we form a connection so strong that, sometimes, it can cause us to hug our animals a little too tightly. I'm speaking figuratively of course (but not entirely). Being overprotective of the animals we shelter, through well-intentioned adoption barriers, we can actually deter potential families from going to a shelter in the first place. Instead, they turn to Craigslist or pet stores to easily source their pets without even realizing that they're supporting puppy mills or irresponsible breeders.
The reality is, San Diego, like most big urban areas, is filled with responsible, animal-loving people who want to open their hearts and homes to animals. We want to let them do this! We want to empower them and provide resources that encourage adoption – not obstruct it. And then we want to stun them with lifelong support to keep those pets in their homes.
Our goal should always be to share the love.
What does that look like for San Diego Humane Society and most modern shelters across the country today? It starts with a streamlined adoption process. Rather than a paperwork-intensive adoption application, we conduct "conversational" adoptions to gauge a person's lifestyle so we can best match them with a pet. This approach is inviting to potential adopters and is also more effective; we learn tons about people during these conversations. Better matches lead to better adoptions, which subsequently lead to fewer returns and more space for other animals. The big take home lesson is that we're not sacrificing quality or scrutiny. We're getting to know the people who want to do good by adopting a pet.
Many people who ask me about whether we do home inspections, call in vet records or get a landlord's approval letter. We don't. Nor do most progressive shelters around the country today. We stopped doing this because, quite simply, it didn't work. We got inadequate or misleading information, and animals waited days to weeks or even longer to go home. Unfortunately, people with bad intentions will get an animal one way or another. We can't screen them out through paperwork. Preventing hundreds of animals from finding good homes by putting up unnecessary – and ineffective – barriers isn't the answer to protecting them.
I also get questions about our reduced fee adoption promotions that are lightheartedly fun and relevant to current events. We do these because they work! Not only are people drawn to the prospect of being able to invest more money in supplies and fun toys for their new pet, but this also gives our shelters the ability to showcase certain animal populations. This has been invaluable in finding homes for animals who are often overlooked – like senior dogs or adult cats during kitten season.
Year over year adoption rates show that adoption promotions are highly effective at getting more animals adopted. Just last weekend, we found homes for 431 pets during NBC Universal's annual Clear the Shelters event – that's more than 4 times the number of animals we place in a regular weekend! And these were good homes! Our adoption policies remain the same during these events, so we can still ensure we're making good matches.
One of our best assurances that our animals are in good homes is that we contact every single adopter within three days of adoption, then three weeks and then three months to make sure things are going well with their new family member and to offer our support along the way.
And if there is a problem, we want to be the first to hear about it. Our "Adoption Guarantee" states, "Love your new pet or let us know. We'll always make it right." We do this because we know not every adoption goes the way we hope. We want our adopters to know , with no judgment, we'll take that pet back and refund the fee. For us, and our animals, that adventure outside of the shelter was priceless—we're able to learn so much more about that animal by what the family observed in their home, and that animal had a much-deserved adventure outside the shelter. Priceless.
Finally, the very best way we can help animals and people is through our PAWS San Diego and other relinquishment intervention programs which help people keep their pets so they never even have to enter a shelter in the first place. We believe the answer to ending pet homelessness is to give people the tools and resources needed to keep their companions in the homes they deserve. We never want someone to give up an animal they love, and we'll do whatever it takes to make sure they don't have to. That's the safety-net mission we've embraced.
We know these changes are a big shift from the traditional adoption approach, now very outdated. To be blunt, that approach has gone the way of fax machines and flip phones. Working with the animals that we love and have dedicated our lives to, is not a job, it's a lifelong commitment. For their own health and well-being, we want our animals to find homes quickly and we want those homes to be the right ones. So we'll continue to find innovative ways to help as many animals as possible. This open approach to adoption is helping us do just that, which is resounding proof that sometimes, letting go a little can be the best way to share the love.
Always grateful,
Gary Weitzman, DVM, MPH, CAWA
President and CEO
San Diego Humane Society
Published: August 23, 2018