Project Wildlife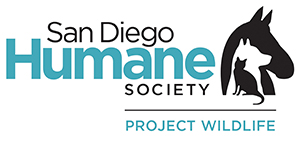 The Project Wildlife program has been dedicated to educating the community about wildlife as well as providing injured, orphaned and sick wild animals a second chance at life since 1972. This commitment to helping wild animals has grown tremendously since the 2014 merger with San Diego Humane Society. Project Wildlife is proud to be one of the largest wildlife rehabilitation programs in the country.
Who We Are
The Project Wildlife program stands alone as the primary resource in San Diego County for the majority of wildlife to receive help when they critically need it. As our human population grows, we have less natural space for wildlife, which dramatically increases the need for rehabilitative care and conservation. Every year, Project Wildlife provides for more than 12,000 wild animals – from raptors to squirrels and ducks – the best opportunity to receive the nurturing care they need to survive, whether it's specialized veterinary care, injury rehabilitation or simply a safe place to mature.
What Is Wildlife Rehabilitation?
If you've found an injured animal, please bring them to Project Wildlife.
Wildlife rehabilitation is the treatment and care of injured, orphaned or sick wild animals in effort to release them back into the wild.
Project Wildlife is permitted to rehabilitate wildlife by the California Department of Fish and Wildlife and the United States Fish and Wildlife Service. We operate under a strict guide of protocols, research and veterinary consultation in order to make the best decision for a positive outcome with each individual animal in our care.
Rehabilitating wildlife without the appropriate permits can cause potentially fatal damage to the animal and is punishable by fines up to $25,000 if any wild animal is kept for more than 48 hours. If you find a wild animal in need of care, please do not attempt to provide care yourself. Every moment is critical, so please bring the animal to a permitted wildlife rehabilitation center as soon as possible.
Project Wildlife Stories