COVID-19 UPDATE
Due to Covid-19 many of our partner agencies are not able to take in wildlife at this time. Our normal wildlife transport systems are currently Offline due to California's Shelter in Place orders. We recommend that any injured wildlife be taken directly to our Bahde Wildlife Center, located at 5433 Gaines St., San Diego, CA 92110. Patients can be dropped off here from 8:30 a.m. – 5 p.m. If you absolutely can't make it to this location, animals may also be dropped off at our Oceanside and Escondido campuses.
Before capturing a wild animal, please review this information to ensure intervention is needed.
Drop-Off Locations
If you've found an injured animal and need information on where to take it, please call: 619-299-7012
Project Wildlife Drop-Off Locations
If you are able, bring the animal directly to the Pilar & Chuck Bahde Wildlife Center.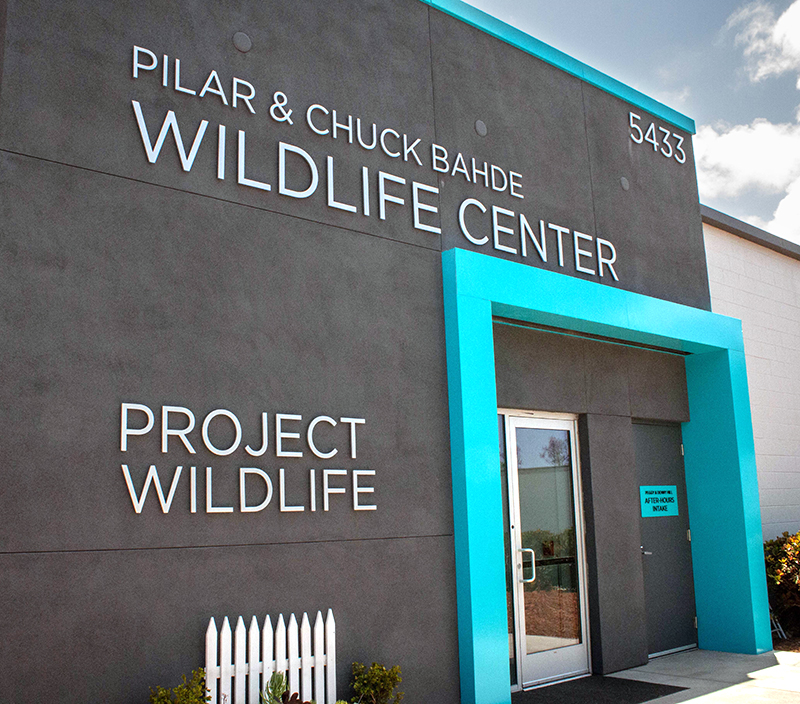 Pilar & Chuck Bahde Wildlife Center
5433 Gaines St.
San Diego, CA 92110
Hours: 9 a.m. - 5 p.m.
Open 7 days a week
(except Thanksgiving, Christmas and New Year's Day)
Drop-off area is open 24/7 and there is dedicated parking in front of the building.
---
---
Do not attempt to care for the animal yourself. Do not give it food or water because it could cause further injury. Please do keep the animal in a dark, quiet box or crate and bring it to the center or another wildlife drop-off location (listed below). The Bahde Wildlife Center is open from 9 a.m. - 5 p.m., 7 days a week and our drop-off area is open 24/7.
Alternative Permitted Wildlife Drop-Off Locations
Mission Animal Bird Hospital
655 Benet Road
Oceanside, CA 92058
760-433-3763
MAP
All Pets Animal Hospital
Mammals Only
149 S. El Camino Real
Encinitas, CA 92024
760-634-2022
MAP
Acacia Animal Hospital and Pet Resort
655 W. Citracado Parkway
Escondido, CA 92025
760-745-8115
MAP
Chula Vista Animal Services
130 Beyer Way
Chula Vista, CA 91911
619-476-2476 or 619-691-5123
MAP
Containing: For assistance containing an animal, please call Wildlife Assist at 858-278-2222.
Transport: For emergency transport options, please call San Diego Humane Society at 619-299-7012.
Info: For questions or comments NOT related to found animals, please email us at [email protected].
Donate Amazon Wish List Volunteer Project Wildlife Newsletter