5 Common Questions About Leash Laws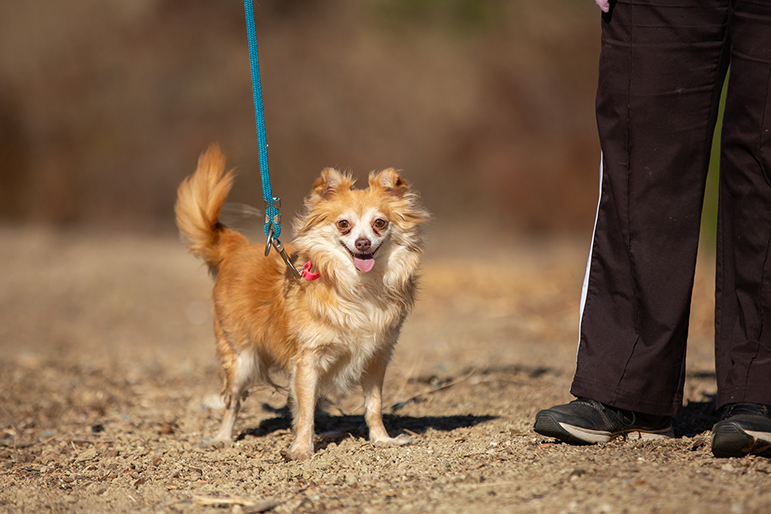 Many dog owners are unaware that there are leash laws, which require dogs to be leashed in public for the safety of both animals and people. Here are five questions you may have about leashing up:
1. If I know my dog will stay by my side, can I skip the leash? Your dog may be the best-behaved dog in the world, but an off-leash dog can make other people and animals uncomfortable. This can even put your dog in danger. Leashes prevent bites and fights, and they show your respect for other pets, people and wildlife.
2. Isn't this law more of a suggestion, like jaywalking? San Diego Humane Society and other local law enforcement respond to calls daily about dogs running loose and patrol areas to ensure that dogs are on leashes. Often they will educate about what a difference it makes for everyone's safety. In addition to keeping dogs safe, leashes help owners control where their dogs go potty and make it easy to scoop. Leashes can be up to 6 feet in length.
3. Can my dog be off-leash on my property? A dog should be under control when outside with a leash, fence or other enclosure. This can help keep your dog safe, especially from vehicles.
4. Are parks and beaches off-leash areas for dogs? There are many designated off-leash areas but not all parks and beaches are. It's important to read signs, because off-leash hours may vary. If you're in a public area that doesn't allow off-leash dogs, keep in mind that adults and children can be fearful of dogs, so use your leash even if other dogs aren't around.
5. What can I say to someone with a friendly dog that might help them understand the importance of a leash? A friendly off-leash dog can create an unfair dynamic for leashed dogs, which causes stress and can put everyone at risk. Think more about other dogs, as well as people or other animals like wildlife who may be negatively affected.
To report concerns about off-leash dogs to San Diego Humane Society's Humane Law Enforcement, please call 619-299-7012, and press 1. For a map of dog parks (on and off leash) throughout San Diego County, click here.
---
5 preguntas frecuentes sobre las leyes de correa
Muchos dueños de perros no saben que existen leyes sobre el uso de la correa que obligan a los perros a estar con correa mientras estén en lugares públicos, para seguridad tanto de los animales como de las personas. Aquí les presentamos cinco preguntas frecuentes sobre el uso de la correa.
1. Si sé que mi perro se queda a mi lado, ¿puedo evitar usar la correa? Su perro puede tener la mejor conducta del mundo, pero el ver a un perro sin correa puede incomodar a las otras personas y animales, inclusive poner en situación de peligro a su perro. Las correas evitan mordeduras y peleas y demuestran su respeto por las otras mascotas y la vida silvestre.
2. Estas leyes, ¿son más bien una sugerencia, como lo es el no cruzar la calle de manera imprudente? La Sociedad Humanitaria de San Diego y otras fuerzas de aplicación de la ley, reciben todos los días llamados por perros que corren libremente y patrullan diariamente zonas asegurando que los perros estén con correas. Muchas veces, educando en la diferencia que esto hace en la seguridad de todos. Además de mantener a los perros a salvo, las correas ayudan a los dueños a controlar el lugar donde excretan sus animales, haciendo más fácil el recoger las heces. Las correas pueden tener hasta 6 pies de largo.
3. Mi perro, ¿puede estar sin correa dentro de mi propiedad? Al estar afuera, un perro debe estar controlado, puede ser con correa o dentro de un cerco u otro tipo de limitante, esto lo va a ayudar a mantenerse a salvo, especialmente de los vehículos.
4. Los parques y playas, ¿son zonas para que los perros estén sin correa? Hay muchas áreas destinadas para estar sin correa, pero no todos los parques y playas lo son. Es importante leer los carteles, porque los horarios para tener a un perro sin correa pueden variar. Si usted está en una zona pública donde no se puede estar sin correa, tenga en cuenta que los adultos y niños del lugar pueden tener temor de los perros por lo que utilice la correa, aunque no vea a otros perros a su alrededor.
5. ¿Qué puedo decirle a una persona que tiene un perro amigable, pero sin correa, para que entienda la importancia de usarla? Un perro amigable, pero sin correa puede crear una dinámica injusta entre perros con correa, lo cual estresa y puede poner en riesgo a todos. Piensen más en los otros perros y en las personas o los animales de la vida silvestre que pueden sufrir por esta actitud.
Para informar sobre perros sin correa llame a Aplicación de la Ley de la Sociedad Humanitaria de San Diego al 619-299-7012 y presione 1. Para ver un mapa de los parques (con y sin correa) del condado de San Diego presione aquí.
Published: November 27, 2019