Volunteer with Your Pet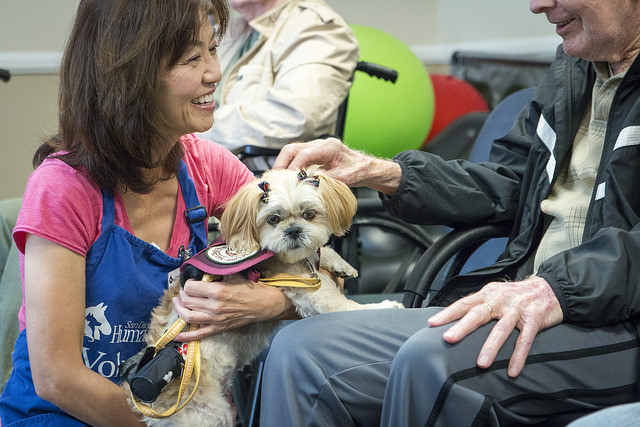 Want to Get Involved?
Volunteer with your own dog!
San Diego Humane Society has a canine volunteer program that helps educate children at our shelter and in the classroom, visits community members at outreach events and brings joy to those who are no longer able to own a pet through Pet-Assisted Therapy and Welcome Waggin' visits.
All dogs in the program first pass an assessment to determine if they are friendly with people, other dogs and small pets who may be volunteering alongside them!
We are currently not recruiting new dogs for our volunteer program. Please read the information below for requirements and steps to get started when recruitment opens.
Opportunities:
Our Canine Ambassador volunteers work with our Education team at summer camps, birthday parties and various events at the shelter and in the community. While volunteering, they educate the community about our services, programs and animals all while providing a fur-fix.
Pet-Assisted Therapy (P-AT) visits are also are part of this program for our Canine Ambassadors who are a bit calmer and get along well with our small pets in the program. These visits are designed to share animals with people of all ages in care facilities such as convalescent homes, hospitals, mental health centers, abused children's homes and juvenile detention centers where residents are not able to experience the joys of pet ownership
As part of the P-AT program, volunteers may go on Welcome Waggin' visits, designed to provide the love and companionship of a dog to people in their own homes. There is no charge for this program and we are able to visit a variety of homes throughout San Diego County.
Requirements to Volunteer:
Be sure your dog meets all the basic requirements:
Outgoing and friendly with all people
Friendly with other dogs
Ignores all small animals (rabbits, guinea pigs, rats)
Not shy or scared of new situations
Be spayed or neutered
Be at least one year old
Not be on a raw food diet
Must pass a temperament evaluation with our P-AT Specialist, which includes introduction to our small animals (rabbits, guinea pigs, rats), other dogs and volunteers.
Must complete an annual health check through their veterinarian and wear a Canine Ambassador bandanna while volunteering.
How to Become a Volunteer:
If you think your dog would be a good fit for this role, please follow these steps:
Our next Canine Ambassador Info Session/First Impression will be held in early summer. Please check back in May for next recruitment dates.

After the First Impression meeting, suitable applicants will be invited to an Animal Ambassador Assessment with their pet.
Dogs that pass the assessment will be established in the program and owners will be required to complete additional training.