Volunteer FAQs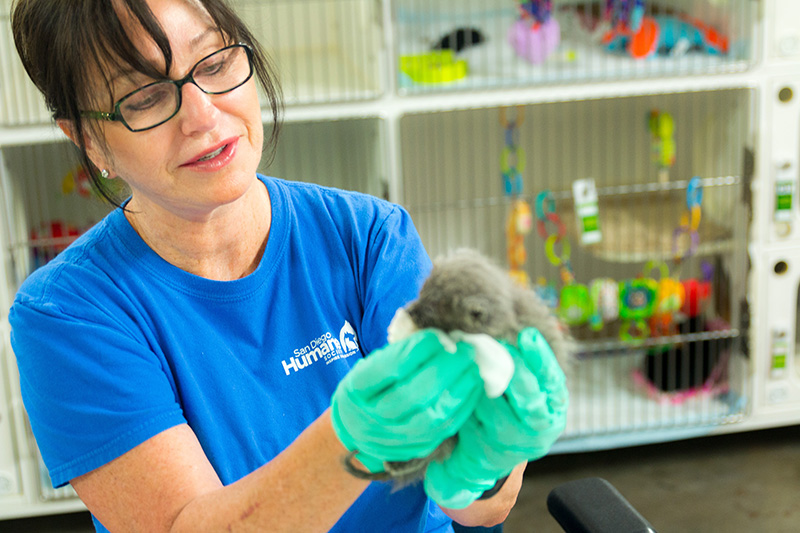 How do I become a volunteer?
You can review the recruitment process for each volunteer team by visiting the main volunteer webpage sdhumane.org/support-us/volunteer/ and clicking each team to read more and apply during a recrtuiment period.
---
How often do you accept volunteer applications?
We constantly evaluate the needs of the organization and recruit new volunteers when needs arise. During a recruitment period, the application will be posted to that team's page on our website.
---
Are there costs associated with volunteering for SDHS?
Volunteers are required to purchase a t-shirt or apron, which are available for less than $15.
Adoption Ambassador pet volunteers must purchase a leash sleeve for $15.
---
How old do you have to be to volunteer?
Oceanside campus: 16+
Escondido campus: 16+
Ramona campus: 16+
Bahde Wildlife Center: 18+
San Diego campus: 14/15, but must be accompanied by a parent or guardian who is also an approved volunteer. Volunteers 16+ may volunteer unaccompanied.
---
I'm not old enough to volunteer, but I want to help. What can I do?
Host a third party fundraiser. Information and guidelines can be found here.
Host a donation drive at your school or in your community to collect new or used items from our Wish List, including towels, blankets and pet supplies, which you can then donate to us.
Print animal profiles and distribute them around your neighborhood to help get our animals adopted.
Learn more about Youth Service options
Explore our D.I.Y. Volunteering page
---
Can I get community service hours for school?
Hours towards school-ordered community service can be verified upon successful completion of 6 months of continuous service.
---
Can I satisfy court-ordered community service requirements?
Hours towards mandated court-ordered community service can be verified upon successful completion of 6 months of continuous service. Due to the high volume of interest in volunteerism at San Diego Humane Society, candidates interested in fulfilling community service with us must complete our general application process and all required trainings prior to beginning their service. At this time, we do not offer short term or quick turnaround service opportunities meant to fulfill court ordered requirements.
---
How can my group get involved in volunteering?
---
Can I volunteer at any other Humane Society if I complete your application?
No, all humane societies are independent organizations. If you are interested in working with another animal welfare organization, you must complete their volunteer application process.