Emergency Response Team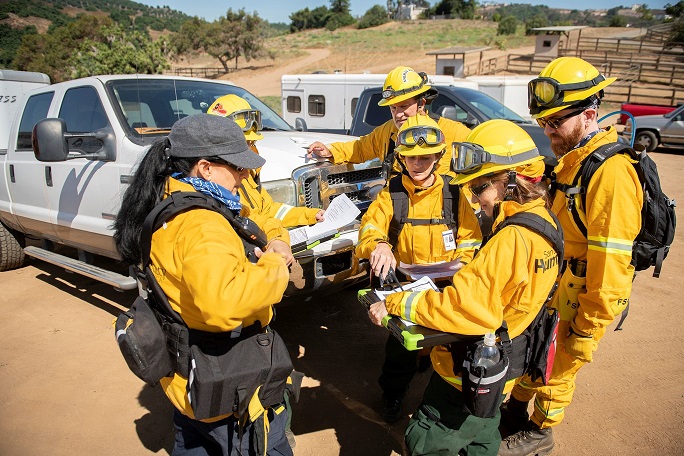 Our Emergency Response Team (ERT) is a robust and dynamic team of volunteers and staff who respond to a broad range of animal emergencies.
Volunteer Recruitment: Currently on hold.
Volunteer Requirements:
Experience with animal disaster response, through personal, volunteer or professional experiences.
Volunteers on the following teams must meet the physical requirements test:

Fire Animal Search and Rescue Unit
Transport Unit
Animal Search and Rescue Technical Unit
Volunteer Commitment:
Annual training requirements vary by unit and individual role. Most units have a minimum training requirement but training opportunities occur throughout the year.
On call during disasters. Every member is not expected to be available for every event; we just ask that you do your best to support the team and the mission as often as possible.
ERT Units:
The team is broken into 'Units' based on both federally structured and local response needs.
Fire Animal Search and Rescue (FASAR) Unit
The FASAR Unit provides tactical personnel and scene management during rescue missions and conducts small animal rescues in a fire environment. The FASAR unit is trained to operate behind fire lines, in both active fire high danger areas and burned out conditions or low fire danger areas. The unit is comprised of Animal Emergency Response Team Leaders, Rescue and Scouts. This unit has additional training requirements, including a wildland fire work capacity test. Preference is given to current and former firefighters and other experienced public safety professionals.
Large Animal Sheltering Unit (LASU)
The LASU provides emergency sheltering to displaced large animals in need. Although primarily called upon to care for animals displaced by fire events, LASU is also available as needed for other events.
Companion Animal Sheltering Unit (CASU)
The CASU provides emergency sheltering to displaced small animals in need, either in support of SDHS or our partners. Shelter types include cohabitated (animals with their humans), collocated (animals near their humans) and animal only (just animals).
Transport Unit
The Transport Unit is responsible for the transport and rescue of equine and livestock animals whose size and/or quantity requires special skills, vehicles or equipment. Examples of such animals include but are not limited to horses, donkeys, mules, bovines, goats, pigs, sheep and other such animals. The unit is composed of drivers and handlers who work together to provide timely, safe rescue in any disaster event. The unit may be called upon to render assistance during non-emergencies as well.
At this time, Transport Unit is recruiting members who have significant equine handling experience, those who can use their own trucks and trailers during fire responses and/or those who have commercial Class A driver's licenses.
Animal Search And Rescue (ASAR) Technical Unit
The Animal Search And Rescue (ASAR) Technical Unit is responsible for the rescue and care of animals whose circumstances create operational hazards and complications which exceed the equipment, training and normal working parameters of society operations. Examples include animals who are entrapped, stranded by or in water, injured or trapped in remote areas and any other complex operations.
Logistics Unit
The purpose of the Logistics Unit is to provide critical support for all emergency operations. Unit services may include operating forklifts, trucks, delivering materials, purchasing goods, installing equipment, providing power, water and sanitation services to any SDHS permanent or temporary facility or location. During emergencies, the Support Services department of SDHS is very likely to be overwhelmed with the volume of needs. The Logistics Unit is therefore intended to provide additional capacity for the department and thereby serves the overall mission of SDHS. During non-emergencies, the Logistics Unit will help to provide the above services throughout the organization.
Incident Command Unit
The purpose of the Incident Command Unit is to organize and support field operations for the Emergency Response Team. This unit will generally operate from the ERT Command Vehicle or other ad hoc, tactical environments in order to provide communication, documentation, equipment and other support services for field responders.