Oceanside Campus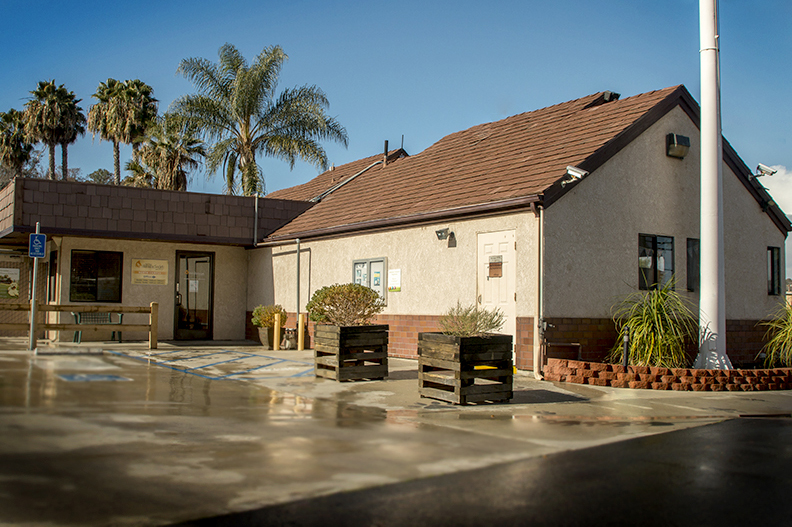 San Diego Humane Society's Escondido Campus cares for the homeless and stray animals of Oceanside, Vista, Carlsbad, Del Mar, Solana Beach and Encinitas. Volunteers on this team assist our staff in serving the animals and pet owners of these communities.
Volunteers on this team assist our staff in serving the animals and pet owners of these communities. New volunteers begin in our foundation level role of our Companion Animal team where they learn the foundation of animal sheltering and San Diego Humane Society policies.Activities include:
Animal Care – Assist staff with feeding, cleaning and enrichment at the shelter. Shifts available daily between 7 a.m.-6 p.m.
Guest Services – Assist guests coming to reclaim lost pets, adopt a new pet or request services or supplies. Shifts available daily between 10 a.m.–6 p.m.
Minimum commitment is one, 2 hour shift every other week.
After 10 hours of service on this team, volunteers may apply to step up to a core level role such as dog walking, cat socializing, assisting in our kitten nursery etc. which we recruit for throughout the year, as needed. These core roles require additional training, responsibility and a weekly shift commitment.
Check out this virtual tour of our Oceanside campus!
---
Volunteer Requirements:
Be at least 16 years of age.
Access to email since all volunteer communication is done via email.
Ability to complete online training courses.
Application Process:
Online application - We recruit new volunteers throughout the year, on an as needed basis.
Online Orientation - Once you apply, complete our online orientation from home
Virtual Meet and Greet - Meet the San Diego Campus Volunteer Engagement team and learn more about this campus, staff, volunteers and service activities!
Onsite Interview - If after attending our Meet and Greet you decide we are the right organization for you, you can then sign up for an Interview at this campus. This small group session includes a behind the scenes walking tour of the facility and an opportunity to practice the volunteer duties to determine if our activities are the right fit for you.
Online Learning - After the interview, the Volunteer Engagement team will offer you a position on the team if our assignment matches your skills, interests and availability. Once you have received your volunteer offer, you can complete your online eLearnings from home and then schedule your first shift!
Our onboarding process typically takes 3-6 weeks after applying.
Now Recruiting!
Click here to apply for a volunteer position at our Oceanside Campus!
---
You can start training now:
Participating in an online learning opportunity for our volunteers: Fear Free Shelter Program. The goal of the Fear Free Shelter Program is to improve the experiences of animals by educating shelter employees and volunteers about their emotional needs. This online course aims to share key strategies and techniques designed to reduce the negative emotional states that are commonly experienced by shelter animals—including fear, anxiety, stress (FAS), and frustration—and increase enrichment opportunities. The Fear Free Shelter Program provides training suitable for all of the individuals involved in the care and oversight of shelter and rescue animals! To participate:
1. Go to the Fear Free website at: https://fearfreeshelters.com/
2. Click "Get Started" in the top right corner to create your account.
3. Fill out your profile information.
4. Print this pre-signed Volunteer Verification Form, fill out the remaining fields, and scan/upload to the Fear Free website to complete your registration.
5. Begin the Core Modules: After a brief introduction to Fear Free, you will work through four mandatory modules, which will need to be taken in consecutive order. Each module will end with an exam, which needs to be successfully completed prior to moving on to the next module. Progress on work can be saved at any time, giving you the flexibility to self-pace throughout the program. The core modules take approximately 5 hours to complete. When all four modules have been completed, you will be awarded with a Fear Free Shelter Program Certificate of Completion.
6. Save your certificate. Once we're able to offer our Volunteer Information Sessions again and you are confirmed as an official San Diego Humane Society volunteer, you can send us the document so we can include it in your file. That's all there is to it!