San Diego Campus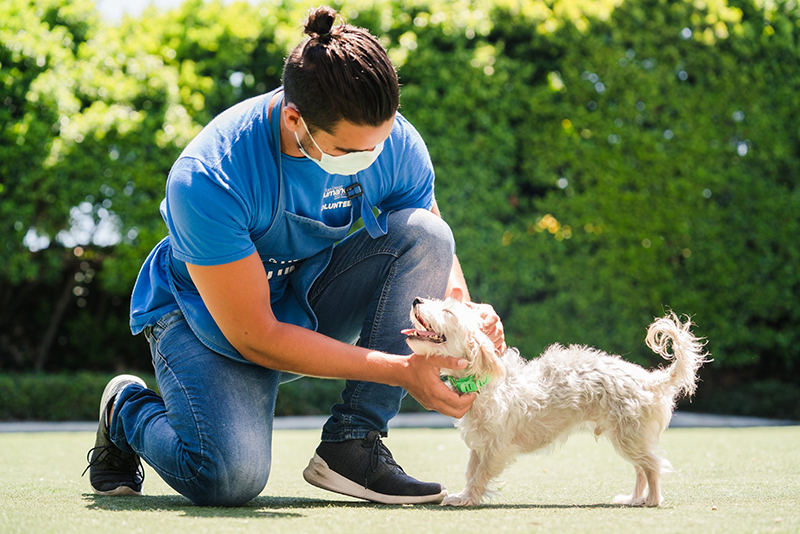 San Diego Humane Society's San Diego Campus cares for stray and homeless animals of San Diego, Imperial Beach and Santee.
Volunteers help our staff, animals and community to ensure a remarkable experience at the shelter. We are grateful for the enthusiasm, dedication and love they share with us every day.
WANT TO GET INVOLVED?
New volunteers are typically recruited every month, on an as needed basis. Interested community members first attend a volunteer info session to learn more about our organization, the volunteer program and ways to get involved. Please review the information below if interested in joining the team! During recruitment periods, application links are available at the bottom of this page!
---
OPPORTUNITIES FOR NEW VOLUNTEERS AT OUR SAN DIEGO CAMPUS:
Companion Animal Team
New volunteers can begin in our foundation level role of our Companion Animal team where they learn the foundation of animal sheltering and assist with feeding, cleaning, making enrichment items and assisting guests. After a minimum of 15 hours of service, volunteers may apply to step up into our core level roles such as dog walking, cat socializing, assisting in our kitten nursery etc. These core roles require additional training, responsibility and a weekly shift commitment.
Foundation Level Duties:
Animal Care – Assist with feeding, cleaning and in-kennel enrichment at the shelter. Shifts available daily between 8 a.m.-6 p.m. Minimum commitment is one shift every other week. Shifts typically run 2 hours in length.
Guest Services – Greet guests, tour them around our shelter, answer frequently asked questions and help with clerical tasks. Shifts available daily between 10 a.m. – 6 p.m. Minimum commitment is one shift every other week. Shifts typically run 2 hours in length.
Neighborhood Adoption Centers – Assist with feeding, cleaning and in-kennel enrichment for cats, kittens and rabbits at our Neighborhood Adoption Centers (inside local Petcos, PetSmarts, etc). Shifts available daily between 10 a.m.-8 p.m. Minimum commitment is one shift every other week. Shifts typically run 1 to 2 hours in length.
---
REQUIREMENTS TO VOLUNTEER AT THE SAN DIEGO CAMPUS:
At our San Diego Campus, volunteers ages 14 or 15 can volunteer if accompanied by a parent or guardian, who is also an approved volunteer, at all times while volunteering. Volunteers aged 16 or older may volunteer unaccompanied.
All volunteers must have access to email since most volunteer communication is done via email.
All volunteers must complete a Volunteer Info Session, small group Service Planning Session and online e-Learning prior to volunteering solo. Service Planning Sessions are typically offered 1-3 weeks after the Info Session!
At this time, we are unable to verify hours to meet community service requirements mandated by the court.
---
HOW TO BECOME A VOLUNTEER:
Complete our online application and sign up for a Volunteer Info Session! Info Sessions are typically hosted every month, on an as needed basis. At this session you will learn more about our organization, the volunteer program and our current opportunities. Sessions are posted to this web page on the 1st of each recruitment month, when new volunteers are needed.
Complete the Volunteer Service Planning Session! If after attending our Info Session you decide we are the right organization for you, you can then sign up for a Volunteer Service Planning Session. This small group session includes a walking tour of the facility, initial training in the shelter and an opportunity to practice the volunteer duties to determine if our opportunities are the right fit for you.
Training! Following the planning session, the Volunteer Engagement team will review your paperwork and place you in the volunteer program if our assignment matches your skills, interests and availability. Once you have received your volunteer offer, you will start your training!
---
San Diego Campus - Recruitment Temporarily Suspended
In response to the current state of affairs regarding COVID-19 and its prevention, we are temporarily suspending all large gatherings in accordance to statewide policies. Unfortunately, this does include any new volunteer information sessions, and therefore our volunteer recruitment and onboarding are suspended until further notice. Thank you for your patience, and we wish you continued health and safety.
In the meantime, if you'd like to get started on your volunteer learning so that you're extra ready when we reopen recruitment, we have highly suggested the following learning opportunity for our volunteers: Fear Free Shelter Program.
The goal of the Fear Free Shelter Program is to improve the experiences of animals by educating shelter employees and volunteers about their emotional needs. This online course aims to share key strategies and techniques designed to reduce the negative emotional states that are commonly experienced by shelter animals—including fear, anxiety, stress (FAS), and frustration—and increase enrichment opportunities. The Fear Free Shelter Program provides training suitable for all of the individuals involved in the care and oversight of shelter and rescue animals!
To participate:
1. Go to the Fear Free website at: https://fearfreeshelters.com/
2. Click "Get Started" in the top right corner to create your account.
3. Fill out your profile information.
4. Print this pre-signed Volunteer Verification Form, fill out the remaining fields, and scan/upload to the Fear Free website to complete your registration.
5. Begin the Core Modules: After a brief introduction to Fear Free, you will work through four mandatory modules, which will need to be taken in consecutive order. Each module will end with an exam, which needs to be successfully completed prior to moving on to the next module. Progress on work can be saved at any time, giving you the flexibility to self-pace throughout the program. The core modules take approximately 5 hours to complete. When all four modules have been completed, you will be awarded with a Fear Free Shelter Program Certificate of Completion.
6. Save your certificate. Once we're able to offer our Volunteer Information Sessions again and you are confirmed as an official San Diego Humane Society volunteer, you can send us the document so we can include it in your file. That's all there is to it!
Once again, we hope to see you in the future once we are ready to resume bringing on new volunteers! Until then, stay healthy and safe!
Are you a professional DVM, RVT, VA or certified animal trainer? Check out our Professional Skills page with information how to get started!
If you can't get started as a volunteer this round, you can get involved in other ways to help our animals: