Specialized Skills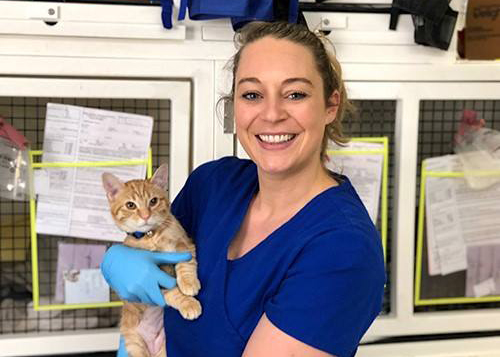 Even with more than 500 staff members, an active Board and over 5,000 volunteers, we can always use more help! Skills-based volunteering, also called pro bono volunteering, is a great way for you to donate your time, energy and talent in a meaningful way, while you develop your skills, and enhance your resume.
How to Become a Volunteer
Review the volunteer positions below

The Volunteer Engagement team will review your information and will schedule a phone or in person interview if there is a position that fits your skills and interest.

Qualified applicants selected for a program will be trained by our professional staff!
Professional volunteers from the community assist in the following areas:
Cage Builders

Cage Builders assist Project Wildlife staff at our San Diego Care Center with building housing for recovering animals as they rehabilitate injuries or grow into young adults prior to release in the wild! Building or construction experience required (professional or personal); tools, supplies and project instructions provided for each build.

Current Need: Positions available in San Diego; flexible event based schedule.

Professional Clerical Assistants

Professional Clerical Assistants assist our Operations, Philanthropy and Human Resources teams with database management, donor relations and various clerical tasks. Volunteers must have office experience and be computer and database savvy. Typical commitment is one 3-4 hour shift per week.

Current Need: All positions are filled at this time, please check back for future openings.

Professional Veterinarians

Professional Veterinarians, Registered Vet Technicians and Vet Assistants volunteer with our Veterinary team duringsurgery, treatments and rehabilitation for the shelter animals. Volunteers must successfully complete a background check prior to volunteering. DVM volunteers must possess a valid CA license and liability insurance. RVT volunteers must possess a valid CA RVT certification. Typical commitment is one 3-4 hour shift per week.

Current Need: Vet Assistant, RVT and DVM positions available in Oceanside and Escondido; weekly set schedule. Please check back in April 2019 for opportunities at the San Diego campus.

Professional Dog Trainers

Professional Dog Trainers and Animal Behavior Specialists assist the Behavior & Training team with training and behavior modification for the shelter animals. Volunteer trainers may also assist the Behavior & Training team with public classes and outreach events. Volunteers must successfully complete a working interview prior to volunteering and possess a valid animal training or behavior specialist certification (CPDT-KA, KPA-CTP, CTC, CBCC-KA, CAAB, etc). Typical commitment is one 2-4 hour shift per week.

Current Need: Positions available in San Diego and Oceanside.

Professional Groomers

Professional Groomers assist with grooming adoptable animals at the shelter or at your grooming salon. Volunteers must be have professional grooming experience with bathing, trimming nails and working with a variety of coats. Typical commitment is one 3-4 hour shift per week.

Current Need: Positions available in San Diego, Escondido and Oceanside.

Shelter Animal and Event Photographer

Shelter Animal/Event Photographers conduct weekly photo shoots for adoptable dogs, cats, rabbits and other animals to be used as promotional photos on the animals' online profiles. Volunteers will also be asked to serve as a San Diego Humane Society event photographer to cover various events throughout the year. Volunteers must submit a portfolio, including samples of companion animal photography, to be reviewed. Professional animal photography experience preferred.

Current Need: Positions available in San Diego; set weekly shift.

Thank you for your interest in volunteering your photography skills! Please complete this application if you would like to be considered for a volunteer position in our photography program.
Photographer Form